Sharon Brunecz joined Amedisys in June as Chief Human Resource Officer and has already started off running. Brunecz came to us from US Acute Care Solutions (USACS), where she served as chief human resources officer. During her three years with USACS, she had overall accountability for human resources, corporate communications and marketing functions.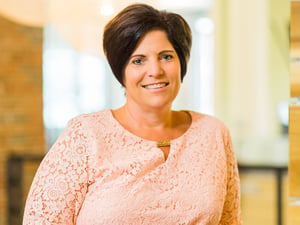 We sat down with Brunecz to ask what sets Amedisys apart. She said that her WHY became apparent even before she joined the team.
"Amedisys has a special focus on the relationships between clinicians and patients," Brunecz said. "It's deeply personal, and that's a big part of who I am. I love getting to know people, investing in building relationships, and helping people achieve their personal and professional aspirations—that's my WHY."
Now, Brunecz and her husband, Gregg, her daughter, Isabelle, and German Shepherd, Murphy, have relocated from the Cleveland, Ohio, area to Nashville. She said they are looking forward to exploring their new home in Music City.
"My family loves to fully experience wherever we are," she said. "We've been to the Tennessee Performing Arts Center and Broadway, and we're looking forward to seeing the Titans play in September. We're also big foodies, so we've been visiting different restaurants."
Brunecz said stepping into this role at Amedisys will provide her with an opportunity to pair her leadership style with a mission statement she believes in.
"I believe in servant leadership—I'm here in service of our clinicians and what they need to do every day," Brunecz said. "At the simplest level, I do what I do so that people can be their best selves at work. I want them to be able to do what they love in an environment where they feel valued and appreciated."
Please join us in welcoming Sharon Brunecz to the Amedisys family.