Whether it's for you or your loved one, you need all the information available to make an informed decision. The Center for Medicare and Medicaid Services (CMS) has developed a checklist of questions to help you select your home health care provider. We've included the CMS questions below, along with our answers. Please feel free to get in touch with your local care center below if you have any questions about home health and hospice care with Amedisys.
Are they Medicare and Medicaid certified?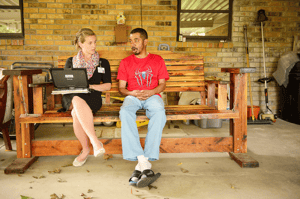 All Amedisys Care Centers are Medicare and Medicaid certified, and our services are covered by many private insurance plans.
Amedisys is accredited by the Accreditation Commission for Health Care (ACHC), which demonstrates our commitment to patient care and maintaining high-quality clinical standards.
Do they offer the specific health care services I need (like skilled nursing services or physical therapy)?
Amedisys Home Health Care provides a wide range of services, including skilled nursing, rehabilitation programs, physical therapy, occupational therapy, speech therapy and medical social work. We have established evidence-based programs for advanced chronic care management, including heart disease, diabetes, COPD, wound care, infusion therapy, oncology, chronic kidney disease, psychiatric services and more.
Amedisys Hospice Care offers different categories and levels of care to meet each patient's individual needs, whether that is routine home care, inpatient care, respite care, or continuous care. We also provide continuing support for caregivers and families for up to 13 months following the death of a loved one.
Do they meet my special needs (like language or cultural preferences)?
We make a concerted effort to accommodate your language and cultural preferences, and our employees are trained to respect and support you and your family's religious and cultural beliefs. We encourage our patients to let their clinician know if there's anything we can do to better support their needs.
If you have specific concerns, please contact your local care center to discuss how we can accommodate your needs.
Do they offer the personal care services I need (like help bathing, dressing, and using the bathroom)?
In support of your doctor-ordered plan of care, Amedisys' Home Health Care aides can provide a range of services (like assistance bathing, dressing and using the bathroom) to help with the challenges of daily life as we work with you toward healing, recovering and regaining your independence.
Do they offer the support services I need, or can they help me arrange for additional services, such as Meals on Wheels, that I may need?
We know physical limitations aren't your only concern when recovering from or managing an illness. Amedisys' Medical Social Workers help you connect with support services for the social and emotional needs that may accompany your condition, including community-based programs like Meals on Wheels.
Do they have staff that can provide the type and hours of care my doctor ordered and start when I need them?
Amedisys' clinicians can provide care for a wide range of home health care needs, and we have established evidence-based programs for advanced chronic care management. The care we provide and the frequency of your home health care visits are based on your doctor's orders, and Amedisys clinicians are empowered with innovative point-of-care technology to help ensure your plan of care is followed. Many of our clinicians have advanced certifications, and all of Amedisys' health care professionals are dedicated to the care and comfort of our patients.
Are they recommended by my hospital discharge planner, doctor, or social worker?
Every patient has the right to choose their home health or hospice care provider. Medicare offers Home Health Compare, an online tool to help you evaluate home health agencies, which includes detailed information on every Medicare-certified home health agency in America. Additionally, your health care provider may provide a list of recommended agencies.
Do they have staff available at night and on weekends for emergencies?
Each Amedisys care center has staff on call 24/7 to handle emergencies whenever they occur, including nights and weekends. Additionally, our innovative online patient care management portal, MercuryDoc, lets your doctor securely access up-to-date information about your condition, to track your progress and order changes to your plan of care, anytime and anywhere.
Will they explain what my insurance will cover and what I must pay out of pocket?
As part of your initial assessment, an Amedisys clinician will help determine what your insurance or Medicare will cover, and will make you aware of anticipated out-of-pocket expenses, if any, up front.
Do they perform background checks on all staff?
Amedisys is grateful to our patients and their families for entrusting their care to us and allowing us into their homes. Because we take that trust seriously, all of our employees undergo a thorough background check before they are hired, and we maintain high standards of employee conduct throughout their time with us.
Do they have letters from satisfied patients, family members, and doctors that testify to the home health agency providing good care?
We are humbled and honored by stories about the extraordinary difference that Amedisys clinicians make in the lives of patients and their families. With their permission, we've posted a few of the many testimonials and letters we receive, both as a way to thank our clinicians for the outstanding care they provide, and to share the benefits of Amedisys Home Health and Hospice Care with you.
Is home health the answer for you or your loved one?