Amedisys is a company full of people who make a difference. But even among such an extraordinary group, there are some individuals who stand out as exceptional. They provide only the highest quality care, advocate for our patients and their families and demonstrate the Amedisys core beliefs in their interactions with everyone they meet.
In a tradition dating back to 2004, Amedisys recognizes these extraordinary individuals with the annual Spirit of Excellence Awards. From 16,000 employees and hundreds of nominations, our selection committee chose 17 winners.
Working in this business requires a special kind of person, and these winners represent the very best of Amedisys and drive our success.
Click each category to read more about each winner.
Home Health Director of Operations of the Year
Brooke Glenn - Springfield, Missouri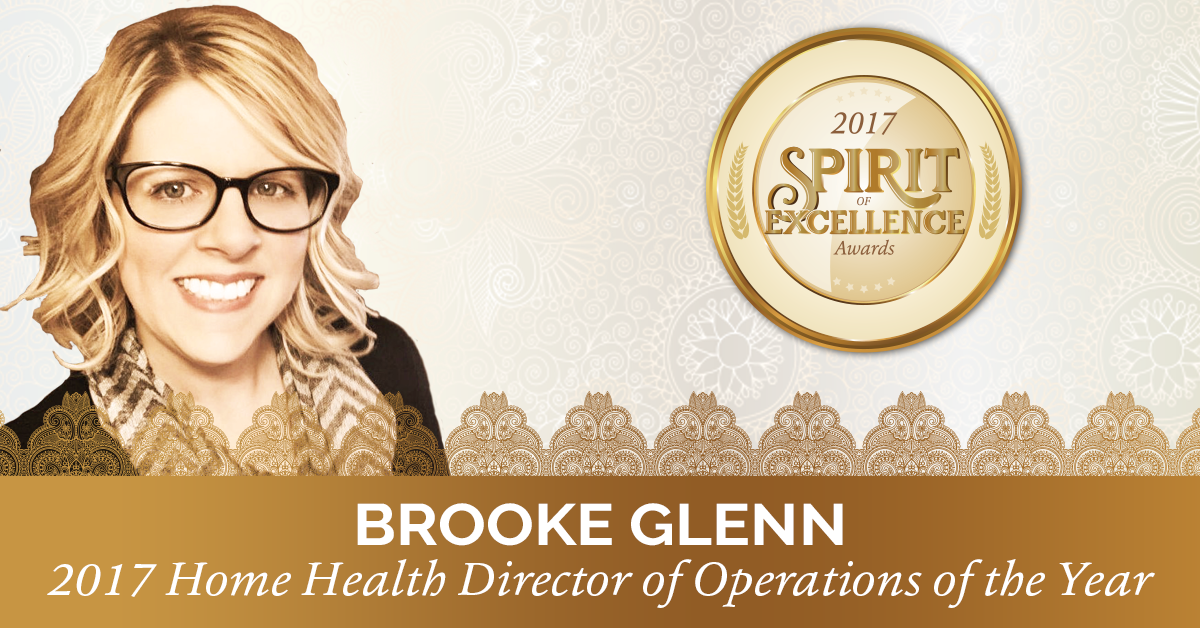 Brooke has been with Amedisys for six years, and has grown with the Springfield care center—first as RN, then case manager and advancing to DOO. Brooke is dedicated to both patients and staff—when a member of our own team is having issues at home, she steps in to coordinate support, or offer babysitting services, or just be an emotional shoulder to lean on. Brooke's days do not begin at 8 or end at 5 – her days begin and end based on the needs of others, the needs of her entire team and the patients whom she supports.
One of her greatest attributes is her selflessness and caring heart. She exudes a passion and care that lead her to make the best decision for each patient case. Her compassionate demeanor as well as her fun-loving spirit mixed with her clinical knowledge makes her a phenomenal nurse; anyone would be lucky to have her as their nurse.
With all the demands placed on her, she still finds a way to keep very organized, never losing sight of her goals or the needs of her staff. She writes notes of encouragement, give small treats and even throws a party with no detail going unnoticed. She is the glue that holds her team together.
Hospice Director of Operations of the Year
Michelle Burks - Toccoa, Georgia
Michelle has worked for Amedisys for 10 years. She goes above and beyond her role as DOO on a daily basis and encourages her team. She always says patient care comes first above all other circumstances, and reviews each case carefully and diplomatically. She has a true calling for hospice and will do everything within her power to see that the patient and their family are completely taken care of throughout their hospice journey.
Michelle is compassionate and listens to what the patient and family need to make sure her staff meets those needs. She not only makes nurse visits but gives baths, if needed, if the care center is short-staffed due to team member illness. She is a true believer in the phrase, "I will never ask my staff to do something that I am not willing to do."

Michelle was on her way to do an after-hours admission. She cared for this particular patient's wife several years ago and he called the office to ask Michelle to help him because he was dying. He was a prideful man and a military retiree. Michelle broke through his anger, denial and fear of death. The next day, a holiday and Michelle's day off, she took sparklers to this gentleman's home. She celebrated his service to our country, which in turn, honored his existence.
The culture in the Toccoa care center is positive and it is evident everyone is happy to work in this office and this is a testament to Michelle's leadership. When one of her case managers was thanked for the superior care she provides to our patients in our community, she replied: "With Michelle as my leader, how can I not? She is my example. I am simply following her lead."
Home Health Nurses of the Year
Stacey Barnett - Joplin, Missouri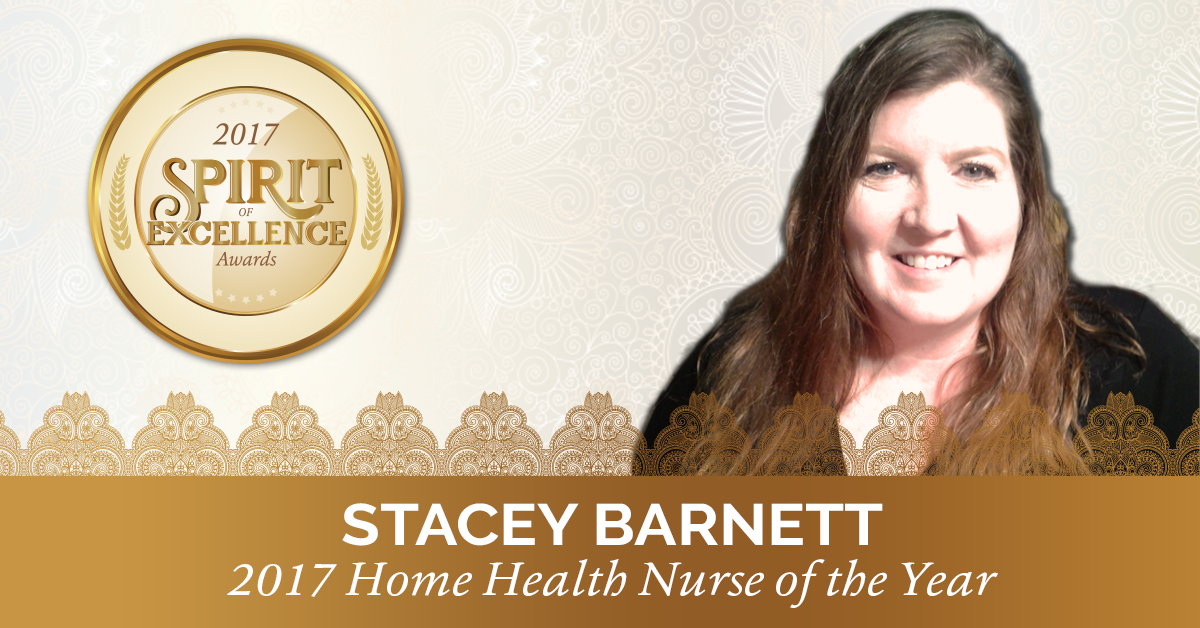 Stacey Barnett has worked for Amedisys for eight years. Stacey demonstrates excellent clinical nursing skills, which is evidenced by feedback from her patients, peers and colleagues. She promotes teamwork and always goes the extra mile for her patients and coworkers. The amount of compassion, respect for others, integrity and professionalism in delivery of care to patients and their families sets her apart from others. She demonstrates effective management of the ever-changing clinical practice and is highly respected by her RN coworkers.
From administering CPR to an injured man on the side of the road to performing assessments in patients' homes, Stacey uses her many gifts and talents to provide expert care to those who need it most.
​

I trust her as much as any GREAT nurse I know (and I've worked with A LOT of great nurses)!

​ Joplin, MO experienced a devastating EF5 Tornado in May 2011. In typical Stacey fashion, she was on the front line looking for some place to help. I believe she ended up at the local university helping triage patients.

I know I can speak for everyone when I say, "We hit the lottery!"
MaDonna King - Tazewell, Tennessee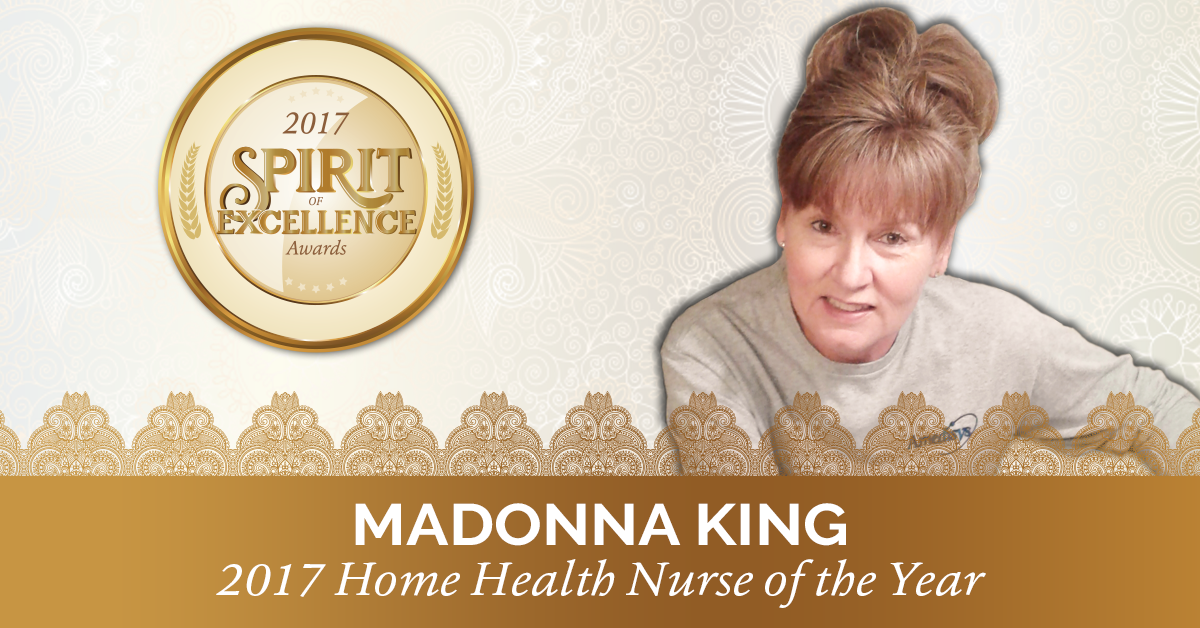 MaDonna King has worked for Amedisys for nine years. She has gone above and beyond to care for her patients as a true advocate, and strives to motivate those around her.
One patient suffering with a chronic mental illness and who is legally blind suffered many losses in her life such as the loss of independence, her family and friendships. She was unable to provide income for herself, unable to prepare meals and safely move around her home. The patient had multiple hospitalizations, and MaDonna kept insisting that the hospitals were not diagnosing patient correctly. MaDonna became the patient's advocate and did not give up on her. This girl needed desperate assistance to survive, and was admitted to a nursing facility to receive 24-hour care. Upon discharge, MaDonna also went through the proper channels to assist with housing. She calls the patient daily to be her personal cheerleader and to encourage her.
​She puts 100% of her tireless efforts in to making sure her patient's needs are met—she is caring, dependable and demonstrates clinical excellence in the care she provides.
Hospice Nurses of the Year
Samantha Spangler - Marlborough, Massachusetts
Samantha Spangler has worked for Amedisys for two years. She continues to go above and beyond for her patients and families. Patient families consistently call and submit letters of appreciation and praise her professionalism, bedside manner and knowledge. The families absolutely adore Samantha's presence.
Samantha's nursing knowledge of disease process, symptom management and end of life shines through each case she manages. She is efficient in completing and returning documentation and continues to exemplify a true hospice heart every day. She shines through all she does and we're appreciative of her hard work and dedication.​
Sam is friendly and easily makes connections with others. She treats each patient with respect dignity, ensuring both their clinical and emotional needs are met. When one of her patients passes on, she remains with the family for a long time giving emotional support and comfort. Sam does not rush out of someone's home. She gives our patients and their families the care they deserve.
Noreen Donlon - Portsmouth, New Hampshire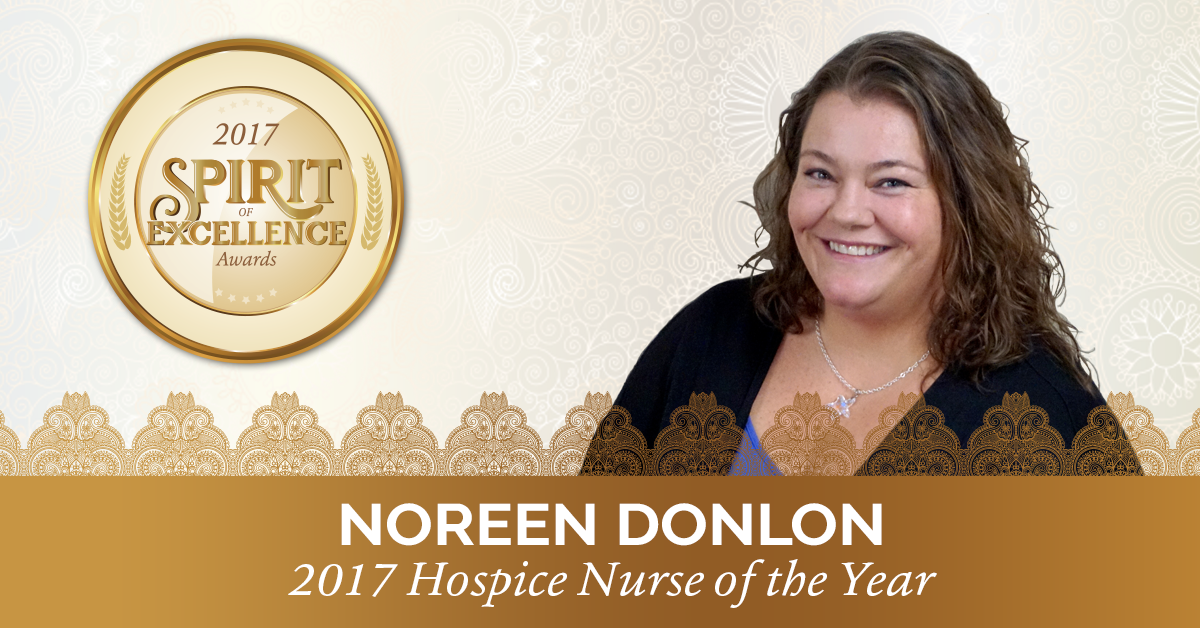 Noreen Donlon has worked for Amedisys for one year. She is a natural caregiver, exuding selflessness and consistently seeking opportunities to support others.
​Noreen's passion and diligence does not stop at routine patient care; she starts her day early and does not leave until all of her patient needs are met. Her devotion to hospice care is evident, from helping make a patient's final Dream come true by arranging a whale-watching tour (through the Amedisys Foundation's partnership with Dream Foundation) to honoring a patient with a We Honor Veterans pinning ceremony. ​Noreen embraces her patients and her families and is always attentive to their needs. She doesn't just look at a patient for their diagnosis coming onto hospice—she looks at every facet of their journey so far and what she can do to ensure their legacy is honored.
​
Noreen is always available to help when other nurses or team members are in need. She has a gentle demeanor and kind spirit, and knows the true meaning and honor to care for people during their end-of-life process.
Therapists of the Year
Ballou Barrett - Greeneville, Tennessee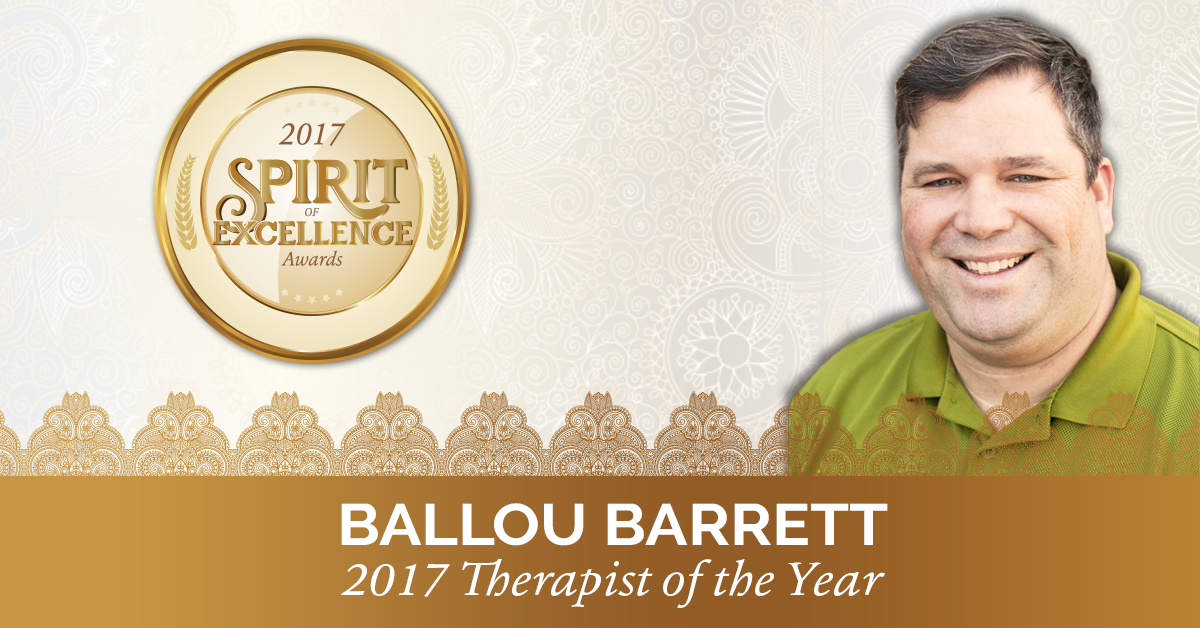 Ballou Barrett has been a therapist with Amedisys for six years. Patients and families adore him and praise the outstanding care he provides.
Ballou is kind and caring, and greets all his patients with a smile and a good morning. Everyone in our ALF knows him and sees the improvements that others make due to his care. Even on his busiest days, he sits and makes time for patients and never rushes them.
Ballou attends CEUs to ensure he provides the best care possible to everyone he treats, not only with the patient and caregiver, but every clinician involved with their care. He always has his documentation completed and can tell you who needs what. He will always follow up, even when he hands off the patient to a nurse. Ballou never lets anything 'fall through the cracks.' He is a great patient advocate and communicates any changes that arise with patients' conditions. He has a caring heart and strives to improve each person's everyday living. He has a way with people to keep them motivated and looking to the future rather than letting them give up. He is willing to listen to them about anything that is on their mind during his visits and treats everyone with respect and a smile.​
Cindy Matthiesen - Grove, Oklahoma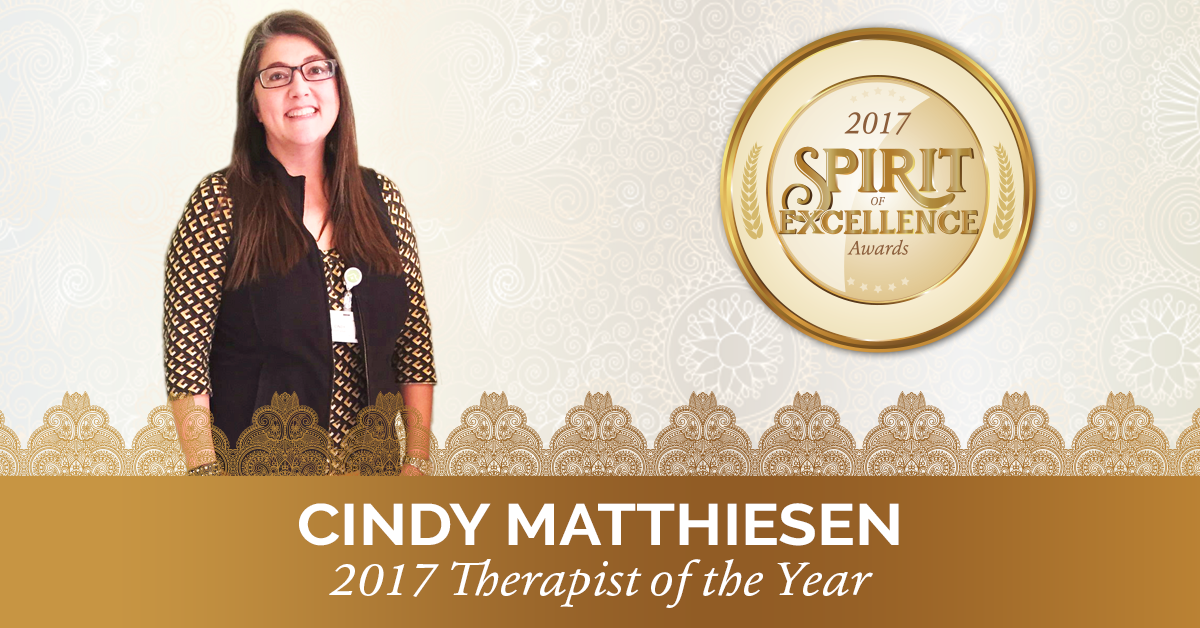 Cindy Matthiesen has been a therapist for Amedisys for four years. Daily she exemplifies service, passion, integrity, respect, innovation and talent. Her deep commitment to her patients, coworkers, care center and company as a whole exceeds expectations. She is a true role model in her field and exhibits the dedication, self-motivation and spirit that deserves this caliber of recognition.
Cindy has worked tirelessly to promote engagement and improve processes in our care center. Cindy is a leader among her coworkers and often helps resolve any issues that occur in the field.
The compassion she shows to each and every patient is astounding. We've received patients that other home health companies could not help, and Cindy is able to talk to them about their personal goals and develop a plan of care. One example is when Cindy helped a patient go from essentially bedbound/maximum assistance needed to walking with the aid of a device. This was after a rehab facility had given the patient little to no hope that this would ever happen.
Cindy embraces patient empowerment programs head-on. She is a true patient advocate, and her astute observations and follow through often help patients avoid unnecessary re-hospitalizations.
Cindy has demonstrated endless dedication—she is a mentor who always makes herself available to coworkers.
Aides of the Year
Mia Edwards - Chattanooga, Tennessee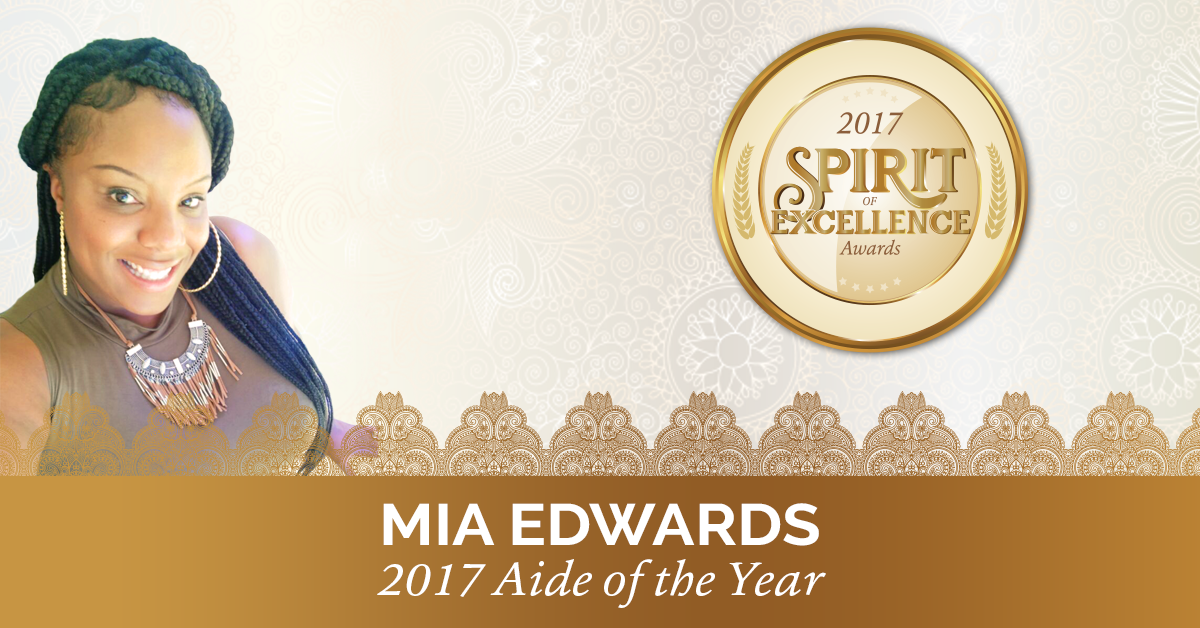 Mia Edwards has worked for Amedisys for five years. She has the most infectiously happy, look-on-the-bright-side attitude that is a blessing for her patients and her coworkers. Mia spreads her joyful attitude everywhere she goes that permeates every home and facility she enters.
Mia is an exceptional hospice aide. She does her job of taking care of the patients physically, but also goes above and beyond when she sees them in need. There are many stories of appreciation from our patients and families about her. How they love her and only want her to be their aide.

Mia demonstrates excellence in the way she cares for her patients and their families and is always lifting up those around her. I recently went into a home where she was finishing up her visit. She was extremely professional and compassionate with the patient as she put her back into her bed after a bath. The patient was very appreciative of Mia's kind and caring way.

​Mia demonstrates excellence in the way she cares for her patients and their families and is always lifting up those around her.
Elizabeth Dubois - Auburn, Maine
Beth Dubois has worked for Beacon Hospice for 10 years. She puts her heart and soul into every patient she sees, and exhibits the true meaning of Amedisys SPIRIT. She stays cool and calm and that helps alleviate the stress for our patients and their families.
Here is a direct quote from a family member:

"My husband's grandmother was by far my most challenging patient (as she was my family) and broke most of the 'rules' I was taught in school. However, Beth embraced Gram's stubbornness and drive to stay independent at home. Beth was Gram's favorite. Everything 'Bethie' did was right and no one else could compare. Beth was consistent with Gram. She came every morning at 10 a.m. and provided companionship, advice and care for Gram. Gram was angry with the loss of her physical function. Fortunately, she had Beth there to provide encouragement and take care of her needs. Gram fell several times on the floor, Beth came and helped her up. Beth did this in such a way that Gram never felt judged or embarrassed. Beth worked extra visits and covered weekends for Gram as she knew Gram was not comfortable with everyone. Beth provided regular support when Gram needed it most."
Beth provides exceptional service and is often thinking of different ways to meet the needs of our patients creatively. The talent she displays is consistent:

We had an Italian-speaking patient with dementia. Beth found a program on her phone to help her communicate with him better. His face lit up when she said words that were familiar to him.
Beth cares deeply about the work she does and treats her patients with the utmost respect.
Valerie Wright - Greenville, South Carolina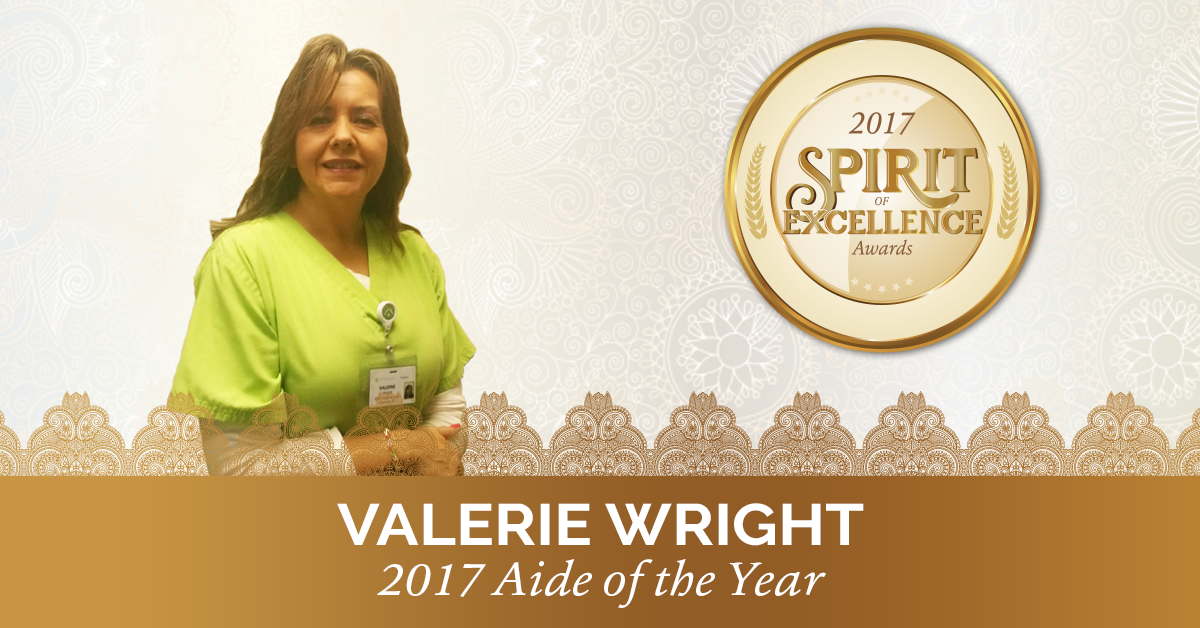 Valerie has been with Amedisys for three years. Her purpose in life is to love people and she embodies every attribute a Director dreams of, not only with patient care, but also as a member of the team. She is proud to work for Amedisys Hospice and it shows every day.
Her care center has received numerous referrals from people who hear about Valerie's love and care.
Recently, when I called the family to schedule our initial hospice visit, the first thing the family said was, "We want Valerie! She took care of my mom's sister over a year ago." We have even obtained facility contracts because our patients have moved to a higher level of care facility and the family is adamant that they will only move if they can keep Amedisys Hospice and Valerie as a part of their loved ones care team.
Valerie demonstrates clinical excellence every day and she delivers quality care from the heart. Having Valerie be a part of a patient's dying process is a gift and I am honored that Valerie chose Amedisys Hospice every day as her source to deliver that gift.
Tracy Trammell - Dayton, Tennessee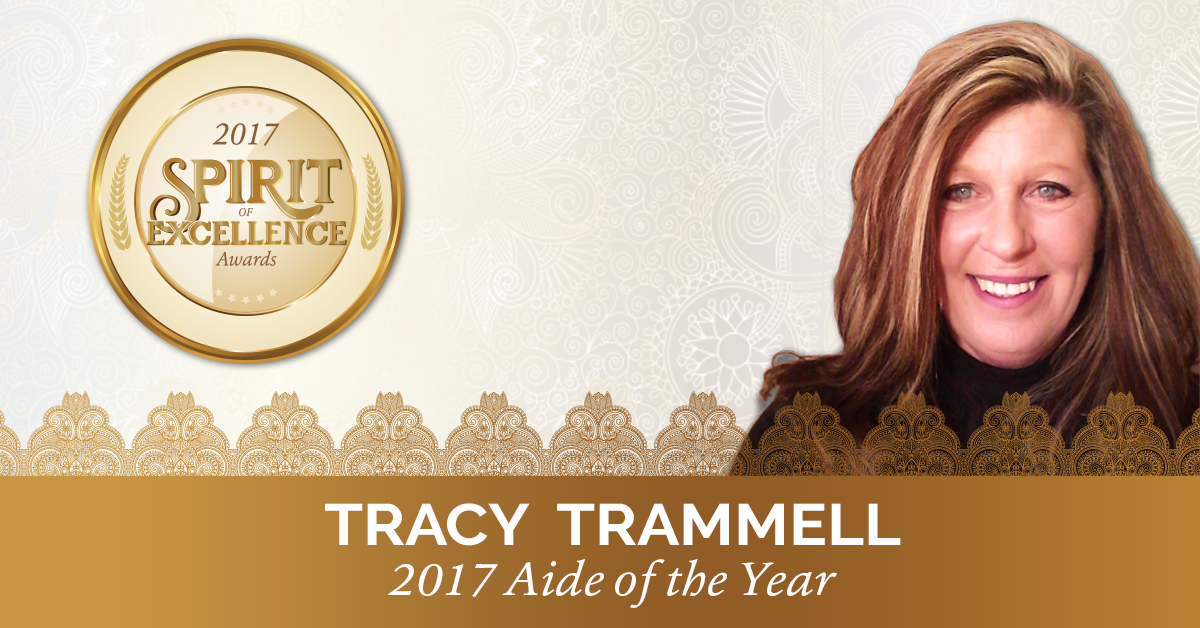 Tracy Trammell has worked for Amedisys for 19 years. The Dayton care center services a very rural area, and she coordinates her schedule to make sure all her patients have a bath before doctor appointments. She does this even if it means she will start earlier, stay later or drive to another area she is not working in that day.
We had a very difficult, bed-confined patient with extensive wounds, foley catheter and was affected by a stroke. Tracy always coordinated her visits with nurses and therapists, because her visits were lengthy. I followed her visit one day and the family could not say enough about how much time and care she took with him.
Tracy has an excellent work ethic and often works weekends or holidays to ensure her patients get the care they deserve. ​Tracy gives top-of-the-line care, paying special attention to skin for any new wounds, red areas and bruising. She listens to patients and reports any changes in living conditions, care needed or social issues. She reports any changes to her supervisor, so the necessary changes can be made in the plan of care. ​
Clinical Manager of the Year
Beth Akers - Bluefield, West Virginia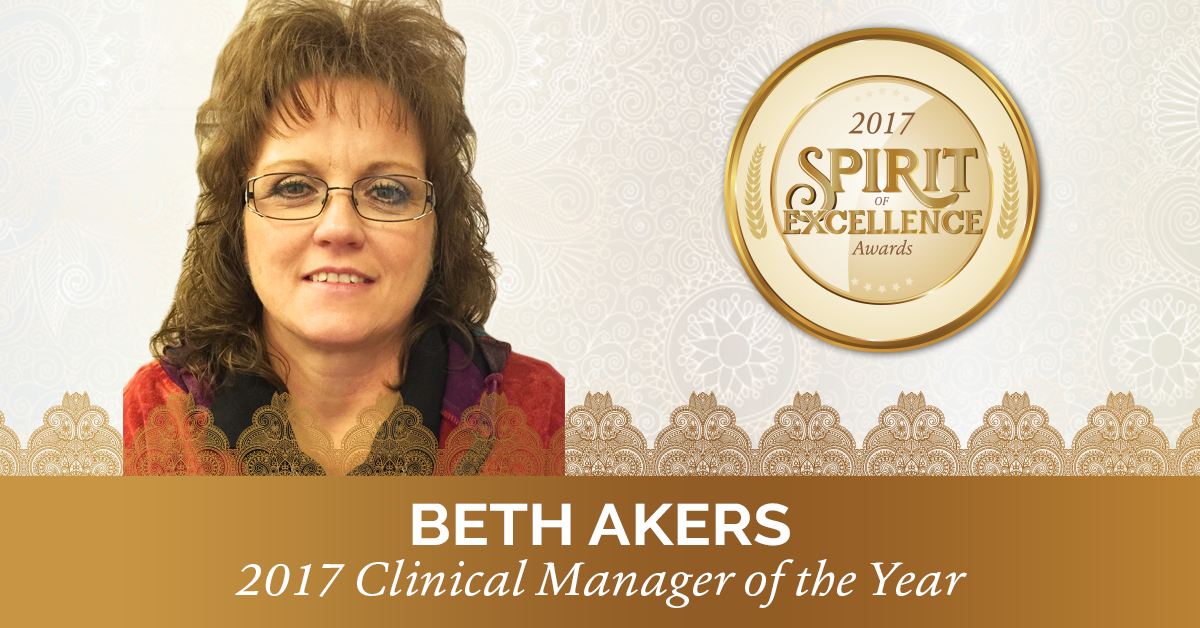 Beth Akers has worked for Amedisys for four years. Patients and families often ask for her by name to answer questions and provide care. She has amazing strength and work ethic and continues to do her job to the best of her ability every day. Beth truly connects with young spouses of dying patients and has been very helpful by talking to them about her own experience. She can sit across a table and honestly say, "I understand." She is an excellent example of taking something very traumatic and difficult in her own life and using it to help others.
Beth never wavers if/when the care center is short staffed—she case-manages a full case load of patients, completes admissions, takes primary call multiple days each week and never asks for help with her CM duties. She demonstrates clinical excellence both in the field and in the care center, is a resource to all clinical staff and plays a pivotal role in orienting new staff. She strives to have 100 percent in all HIS scores and is an advocate for both the patient and their families.
Patient Support Professional of the Year
Rhonda Keefe - Sumter, South Carolina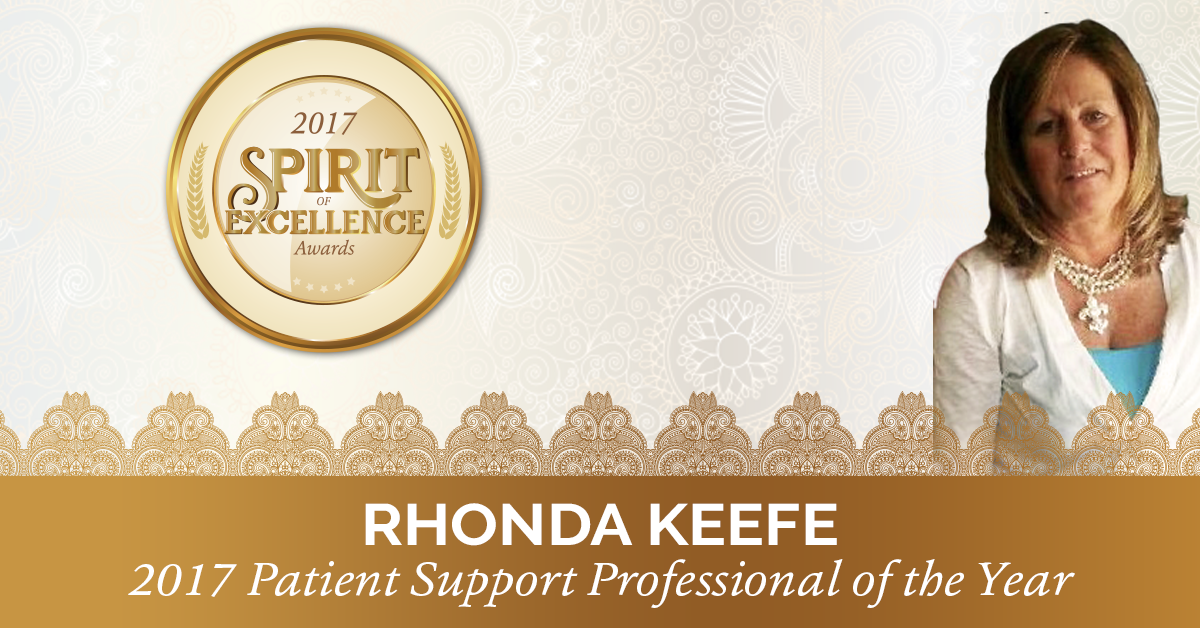 Rhonda has been with Amedisys for seven years. There is nothing she can't or won't do to help, and she is involved in EVERYTHING within the community. Here is just one example:

We had a patient who obviously was not doing well. The family did not have the money to pay for a service to be buried or cremated. They barely had enough food in their own home. Rhonda went through the proper channels to ensure the family was taken care of. When the patient died, Rhonda helped organize a community fundraiser to raise the funds to have the patient cremated. She convinced the funeral home into donating an urn – as if they weren't donating enough by cremating the patient at a deeply discounted rate. Rhonda did it all – this family had no one but us to turn to and Rhonda made sure this family was able to love and honor their loved one and she did it all in 48 hours.

Rhonda monitors and assists every office in South Carolina with volunteer processes, frequently visiting other care centers to train other volunteer coordinators and truly leads with excellence and compassion. She does everything in her power to help not just Amedisys patients, but also her co-workers, her community and anyone who has a need—she is truly selfless. She has a huge, giving heart and serves our patients, families, volunteers and co-workers alike.
Volunteers of the Year
Judy Hinds - Portsmouth, New Hampshire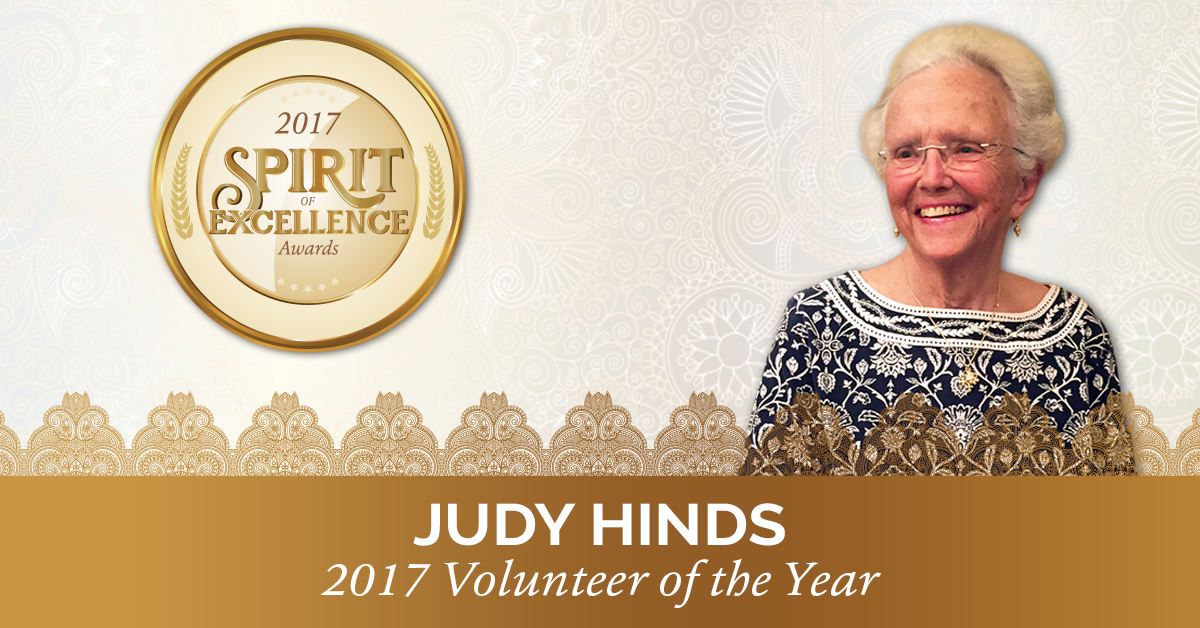 Judy has volunteered for Beacon Hospice for 35 years. She is one of those volunteers you never have to worry about because of her dependability and professionalism. She embodies the grassroots volunteer movement both in her journey through it, and in her unbridled spirit.
Her bereavement support stems back to her personal experience as a caregiver. Judy is a co-facilitator for our Grief and Loss monthly group and makes regular bereavement phone calls and schedules private bereavement 1:1 visits with our caregivers who have lost loved ones.
She was a significant part of the establishment of hospice in New Hampshire – from Manchester to Concord to the Seacoast, she has supported hospice staff, families, patients and volunteers alike across all those regions. She does not hesitate when asked about a new need or assignment, she gives careful consideration to every ask and always wants to learn more about what is needed so she can bring her best service forward. She could not be more of an ideal representation of the hospice volunteer movement. ​
Judy is a role model for grief support to our bereavement program and a true advocate for the families of our patients.
Gary Chickerell - Morgantown, West Virginia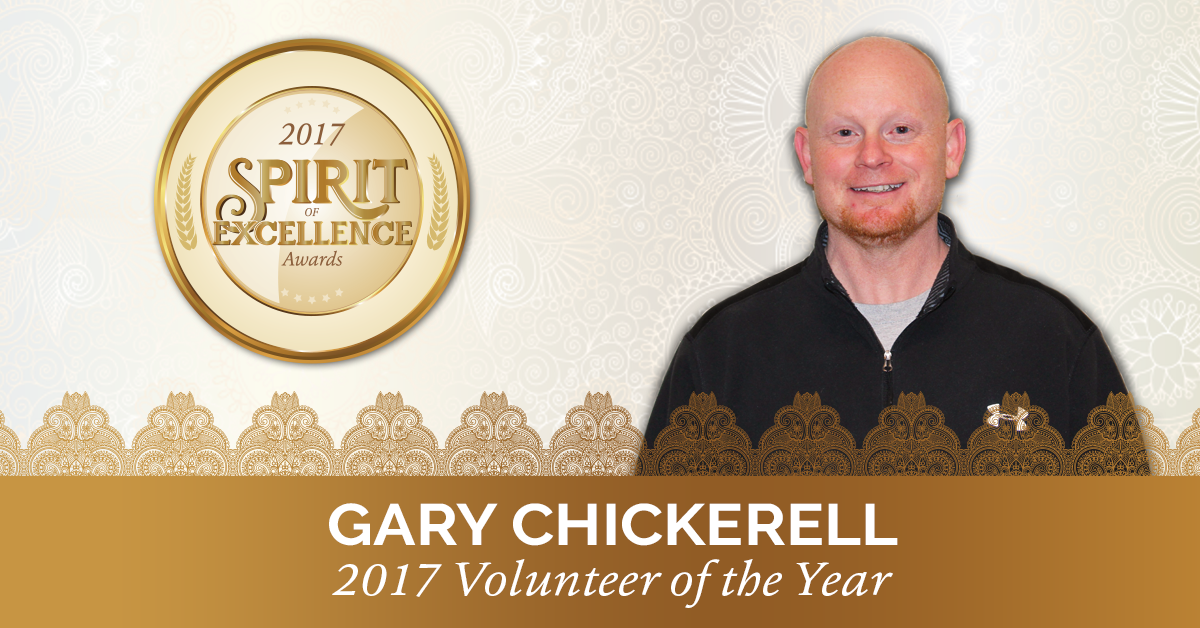 Gary has volunteered for Amedisys Hospice for two years. He is active in recognizing and honoring our veterans and takes extra steps to make them feel special, whether it is through Dream fulfillment with our Amedisys foundation partnership with Dream Foundation or through VFW events and pinning ceremonies.
Our veteran patients have a special bond with Gary through their shared passion, commitment and service to our country. Last year, on Veteran's Day, Gary went to all our veteran patients' homes and held veteran pinnings with their families present. I still hear from families on what that day meant to them and their loved ones. One patient in particular wore his pin proudly for months before passing. The family reflects on this as a true blessing and something they hold in their hearts of his final days.
It doesn't matter what is asked of him, Gary completes it with a smile and compassion for the patient and their family. He enjoys reminiscing with our veteran patients about their time in the military and eagerly soaks up their stories. It's comforting to the patients, families and our staff to have somebody who is willing to go above and beyond.
Overall Spirit Winner
Candi Davis - Springfield, Missouri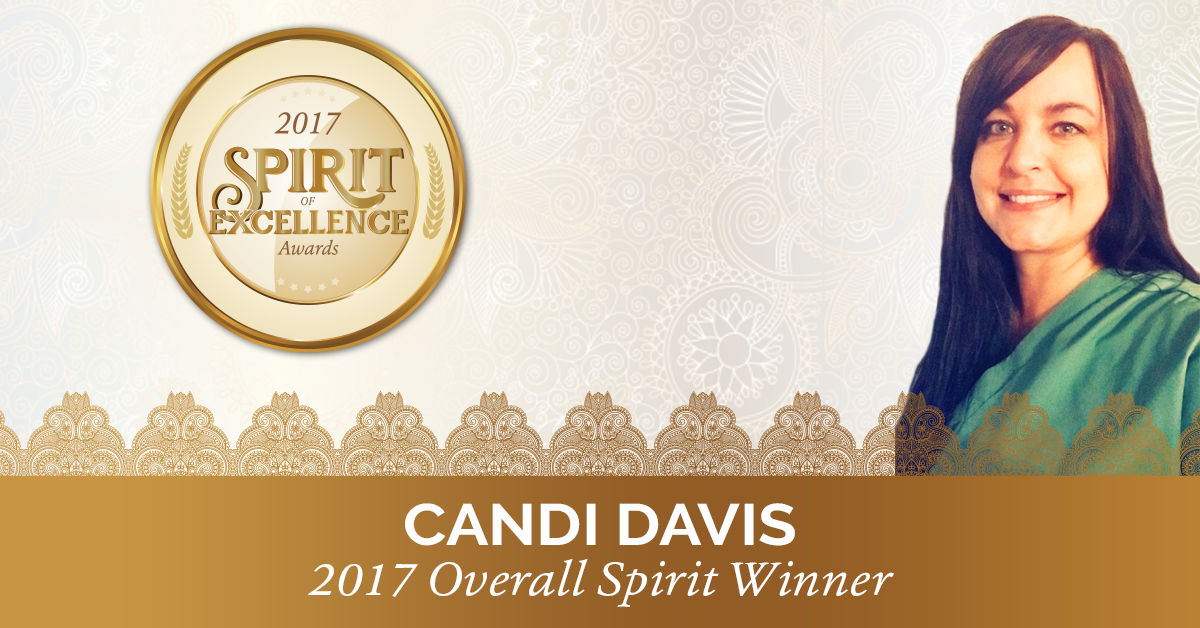 Candi Davis has worked as an LPN for Amedisys for seven years. She is known for her high standards of quality and performance, which is evident in her successful discharges. She is kind, efficient, smart, and exceeds in all aspects of the nursing role. Candi is always one step ahead when it comes to caring for her patients—the calls have already been made, the orders have already been written and the wound care is top notch. She works hard to prevent on-call nurses from driving out of their way when her patients need to be seen on weekends or holidays.
I have been an AE for this care center for 7 years now, and most of that time in the territory where Candi works. This particular territory has had great success, but a lot of that success has been because of Candi! Her reputation precedes my sales call—most of my accounts know her and know what she is capable of. I just remind them that Candi will be the nurse in the home and there are never any questions after that! They know that she will be their eyes and ears while the patient is on service, and they will receive wonderful care.
She is instrumental in the facilitation of patient-centered care and embraces challenges and change with innovative strategies. She takes time to train her team and teach best practices, and has been steadfast, communicative and most of the physicians know her by name. She makes careful consideration to ensure everyone is on the same page when it comes to the patient's plan of care.
Candi practices the theory "service above self" and believes in the ideals of fairness and opportunity for all. Her leadership, knowledge, patient-centered approach and innovation have shaped and impacted numerous nurses, patients, families and the care center as a whole.