Those who nominated these individuals have been awed by their compassion and advocacy for patients and families. Many have learned from them. Many admire them. We believe they deserve special attention for demonstrating the Amedisys SPIRIT and exemplifying the motto, "service is our passion."
For the past 14 years, Amedisys has rewarded 163 of these shining stars with the prestigious honor we call the Spirit of Excellence – 28 more are joining their ranks this year. Today, we celebrate your 2018 Amedisys Spirit of Excellence Award Winners! Congratulations to the winners, all the wonderful nominees and the nominators. You are true Amedisys excellence.
Click below to navigate to each award category!
HOME HEALTH NURSE OF THE YEAR
Home Health Nurse of the Year is awarded to four Amedisys home health nurses who demonstrate clinical excellence with patients. The winners positively influence patients and their families and are committed to the precepts of patient-centered care, achieve at a level above and beyond the typical nurse, and promote patient independence. They have knowledge of patient care and competency in personal care skills, prove to be flexible toward assignments, and function as an outstanding member of the home care team to achieve the best possible outcome and patient satisfaction.
Cynthia Soisson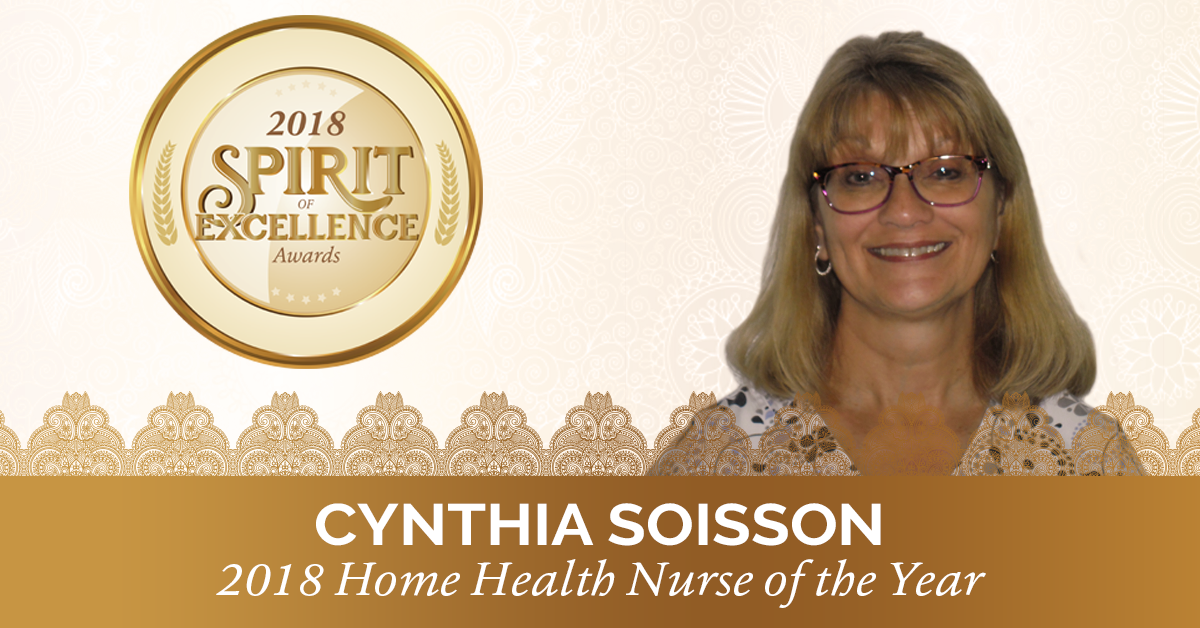 Cindy provides orientation and mentorship to new employees and gives her time and talents to all our staff. She never shies away from attending PCC, patient discussions, helping a newly hired nurse via phone or meeting for visits, even after orientation is over. Her attendance is outstanding—she never calls off sick or uses unexpected PTO time.
She is an exceptional human—she is kind, calm, caring, patient and pleasant, and she never waivers from any of these behaviors. In her 34 years with Amedisys, she has been a mentor to all the new hire RNs and LPNs. Although her superior nursing skills and excellent documentation are outstanding qualities, it is her patient satisfaction and calm, reassuring personality that makes her excel in patient care.
Cindy is humble and her 34 years is a badge of honor. We are privileged to have Cindy as a valued
employee, RN and mentor.
Eva Wallace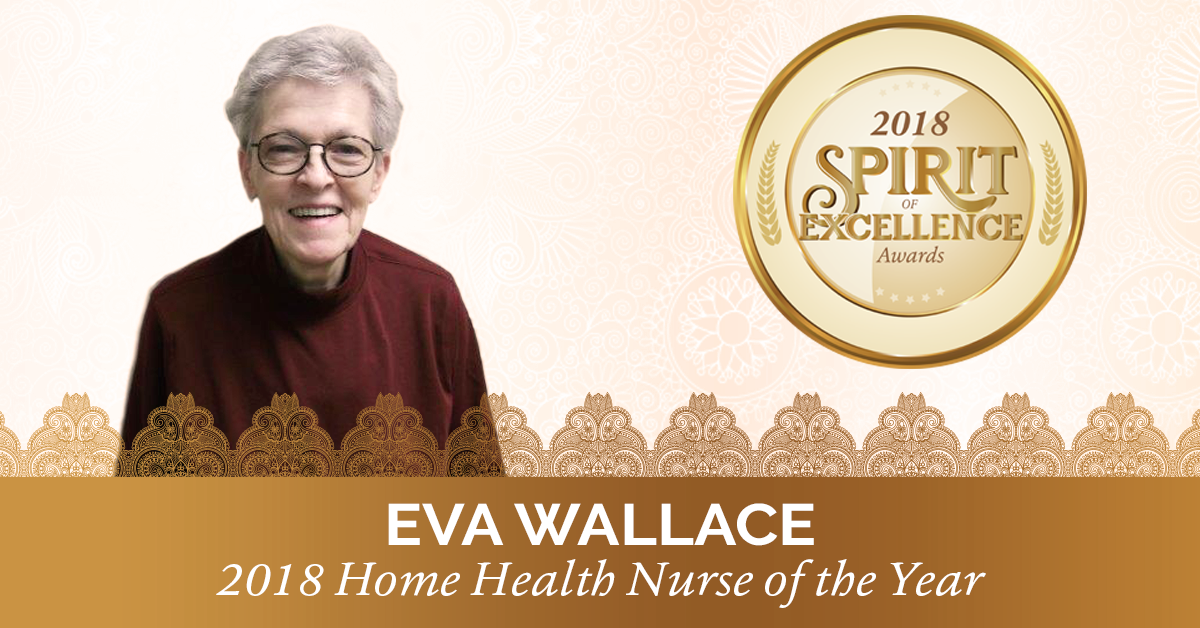 Eva has devoted her entire life to healthcare in many different fields. She goes out of her way to care for her patients and treats each one of them as family—she looks at the holistic view of her patients and their needs. Her nursing career is extensive, and she demonstrates clinical excellence through her daily practice.
She has excellent documentation and an understanding of home health, and her compassion for others is overwhelming. Eva is a true patient advocate, who is willing to stand toe to toe with even the physicians to make sure the patient is receiving the best care possible.
Eva is an example and leader to her fellow coworkers. She is a ball of fire, and her energy and personality is contagious. Her care center calls her "Eva the Diva." Her sense of humor and affability is second to none.
Christina Perez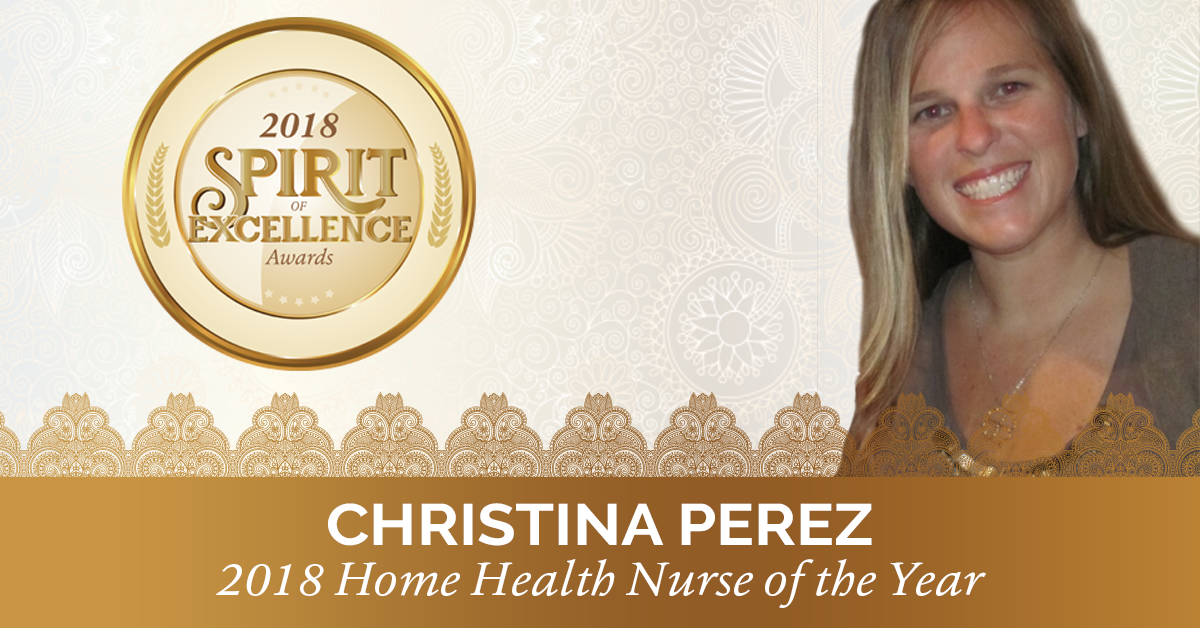 Christina truly has a "spirit of excellence." She is always willing to pick up a patient in need of a PRN visit, even if it is not in her territory. She takes the time to give the care that is needed, even on her busiest of days. Her peers often call her when they need support, and many patients and referral sources know and ask for her by name. No task is too great or too small—Christina has tackled the
largest, most complicated of cases skillfully and takes the time to focus on fixing the little things that mean
so much to patients' quality of life, like taking time to listen to their stories.
Christina demonstrates clinical excellence in the care she provides by not only being a wonderful nurse, but also for constantly educating herself and her patients. She takes the time to research new medications, so she is prepared to help her patients understand as well. She carefully assesses each patient for changes and advocates for additional tests, medication changes or whatever is needed. Her attention to detail has healed many difficult wounds and helped patients return to independence as quickly as possible. She is patient in her teaching, accurate in her assessments, and passionate about providing the most up-to-date clinical care to her patents.
Brandie Sutterfield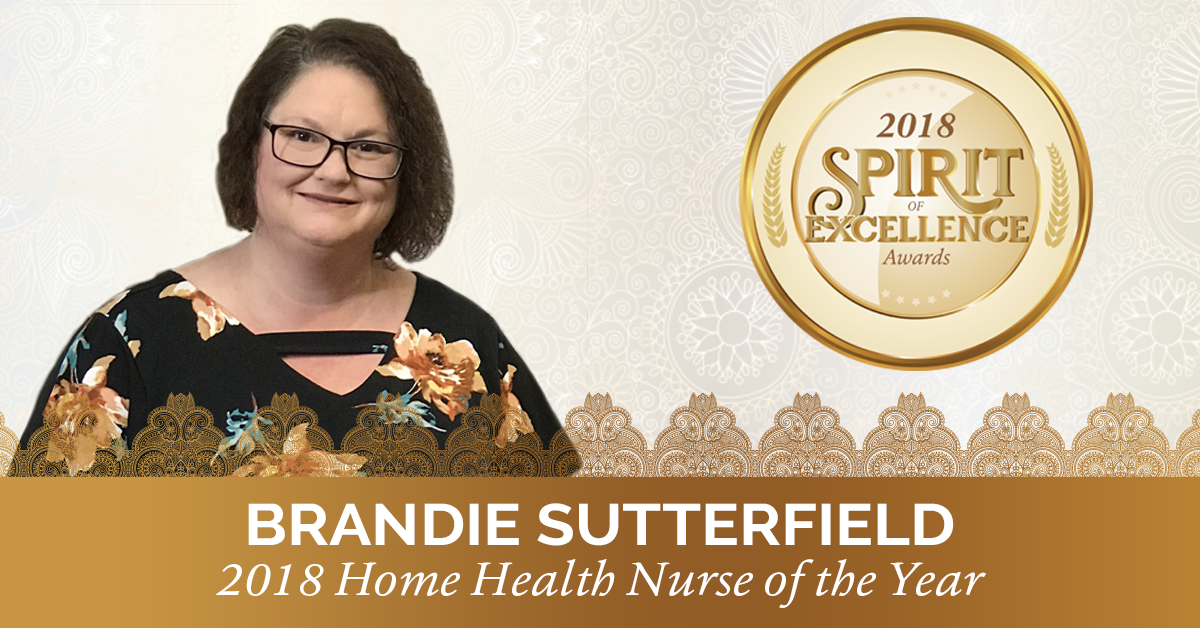 Brandie takes care of all of her patients as if they were her own family. There has never been a patient with whom she can't find common ground, and she understands that we are here to help them reach their goals. She encourages her patients to find small hurdles and inspires them to take action, little by little, until they are making even more goals and changes themselves. She is often requested by name, and we have received numerous calls from discharge planners asking if we have a nurse named "Brandie," because they have a patient whose friend or family had her for their nurse, and they want to go with Brandie's agency.
Brandie always puts the patient first, and she will not hesitate to ask questions because she always wants to make sure she is providing the best care and ensuring the highest quality outcome possible. She has committed herself to being a resource to her peers and a clinical resource to our LPNs. She makes herself available to her teammates even in her down time. If a patient has a unique preference or caregivers have specific needs, Brandie will commit to seeing a patient that is way out of her way or even on a weekend that she is off to accommodate them and make sure they get what they need and not stress out a teammate who may have a hard time accommodating the request due to time frame, etc. She can be there at 6 a.m. on Sunday if that's the best time of day for the caregiver to be available for
medication education.
HOSPICE CLINICIAN OF THE YEAR
Hospice Clinician of the Year is presented to four Amedisys hospice clinicians (nurses, social workers and chaplains) who demonstrate clinical excellence with patients. The winners positively influence patients and their families and are committed to the precepts of patient-centered care, achieve at a level above and beyond the typical nurse, and demonstrate compassion and empathy. They have knowledge of patient care and competency in personal care skills, prove to be flexible toward assignments, and function as a contributing outstanding member of the care team to achieve the best possible outcome and patient satisfaction.
Jennifer McHenry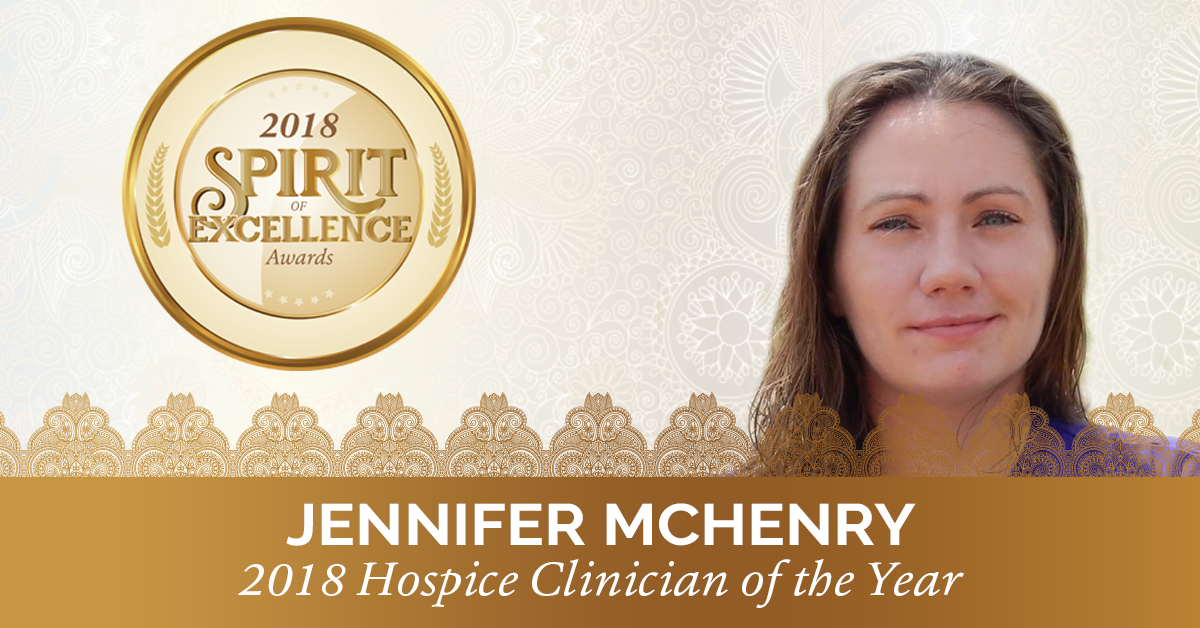 Jennifer loves "what matters" moments with our patients. She went above and beyond to help a patient who used to be a pilot have a final flight before he passed. Another patient always talked about fishing, so Jennifer worked with a volunteer coordinator and a local company to put together a final fishing trip for him.
Jennifer is very honest and open with her patients, and makes sure their needs are met on any level. Her love and determination to see positive outcomes extends not only to her patients, but to their families as well.
Angela Russell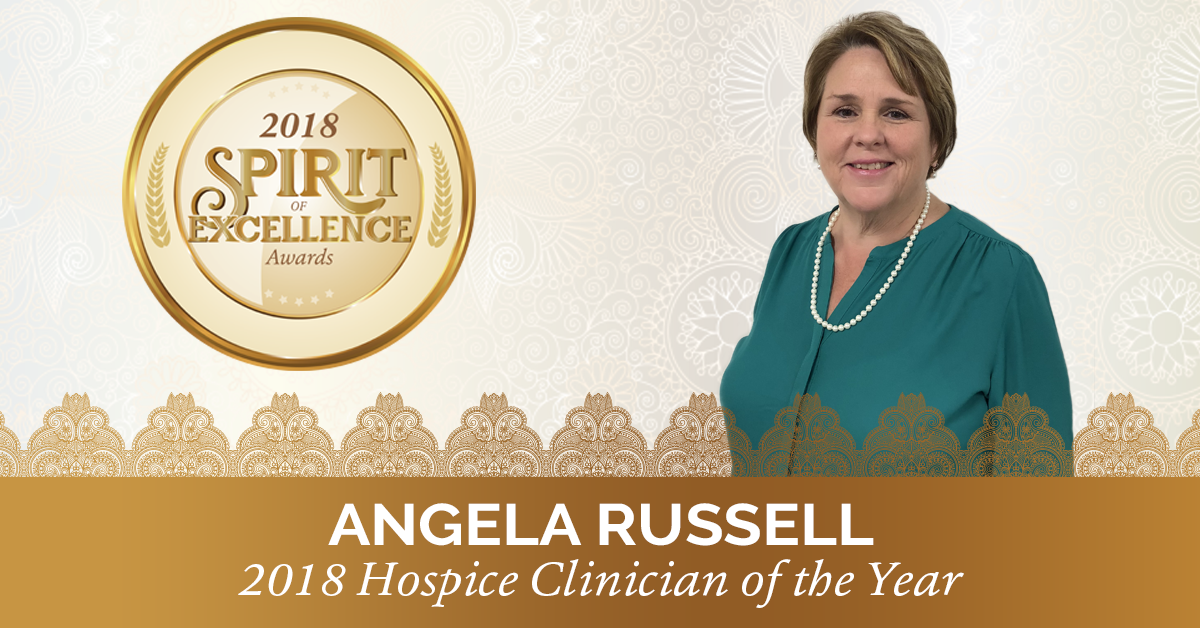 Angela is an exemplary LPN and has a special touch with hospice patients and their families. She has invaluable experience and knowledge having been with Amedisys for more than 20 years, and the team relies heavily on her for her strength and compassion. Angela has worn many hats over the years, including home health field nurse, home health clinical manger, corporate call center, hospice CTC; hospice business office specialist and now a hospice field clinician. Angela is the "team mother" to all her co-workers and an "angel" to her patients.
Angela's clinical experience and knowledge of hospice is demonstrated through excellent documentation. She is able to clinically recognize the needs of our patients and act on them quickly—she will drop everything to help out when needed. Angela often takes calls with the nurses just to help them out and lighten their load.
Eva Aderholdt
Eva's answer is always yes. When a patient needs a PRN visit, she is always willing to go. When a patient needs weekend visits, she is always one to volunteer to make the visit, and helps out with on-call staffing needs. She is an awesome team player with a positive spirit. There is nothing she will not do to provide excellent care to our patients. She is compassionate and goes above and beyond every day.
Eva is a phenomenal clinician who provides superior patient care. She has sound clinical judgment and cares for the needs of not only the patient, but the entire care team of family, friends and caregivers. She is great at being exactly what a patient needs—if a family is grieving, she is kind and empathetic. If a family needs teaching, she is the best teacher. She has been with Amedisys since the start of our Toccoa care center and she is the cornerstone of the office.
Jennifer Florin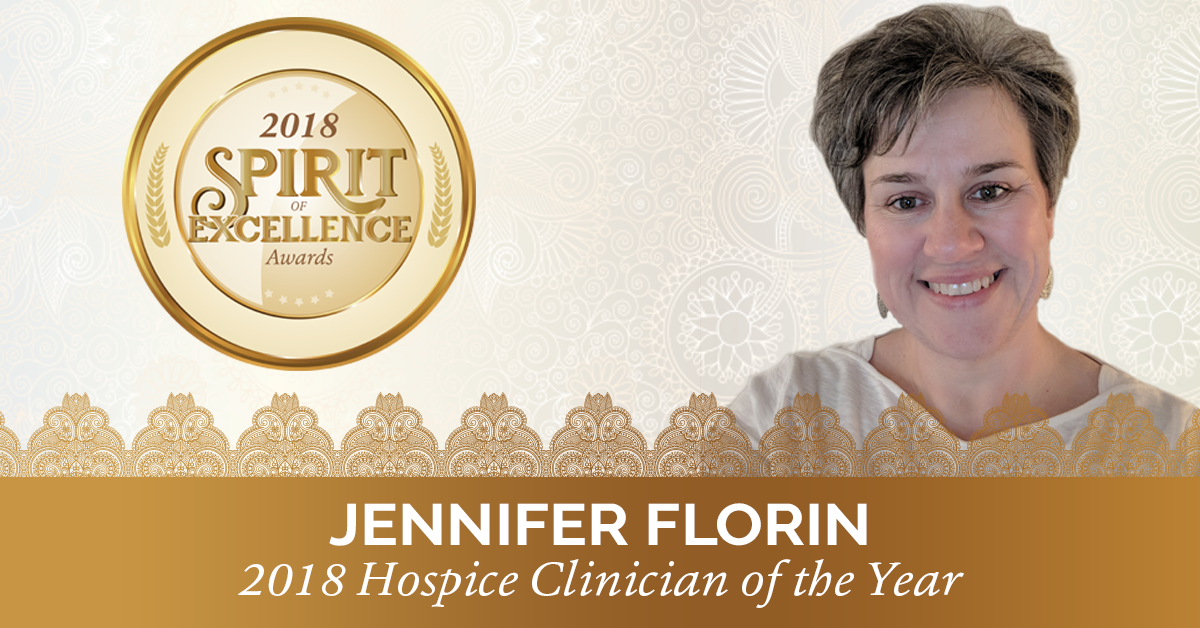 One of the best traits you can find in a person is self-reliance, especially in a nurse. You have to think on your feet at the most sensitive of times, know when to be firm with a family in one moment, and then possess empathetic skills the next moment, possibly to that same family. You have to shoulder responsibilities and be accountable for your actions to support your teammates and your patients. Jennifer Florin excels at some of the hardest skill-sets in nursing, all while still being herself and showing compassion.
Jennifer always puts the family and patients at ease, and has the ability to keep a consistent, cool, calm and poised presence in any situation—a true gem of a skill in hospice care.
Jennifer is an exemplary clinician. She is clear, confident, passionate and vigilant about her patients' needs. You can trust her ability to assess and react to a patient's needs. She will also make you laugh and smile.
She is one of the pillars of our team, as she takes on a natural leadership role, helping to assist in the office in various capacities and never complains. She gets it and makes not just our patients' lives better, but her team members as well, day-to-day.
THERAPIST OF THE YEAR
Therapist of the Year is presented to four Amedisys therapists (OT, PT, SLP) who demonstrate clinical excellence with patients. The winners positively influence patients and their families and are committed to precepts of patient-centered care, achieve at a level above and beyond the typical therapist, and are dedicated to patient independence. They are flexible toward assignments and function as a contributing outstanding member of the care team to achieve the best possible outcomes and patient satisfaction.
Adam Jones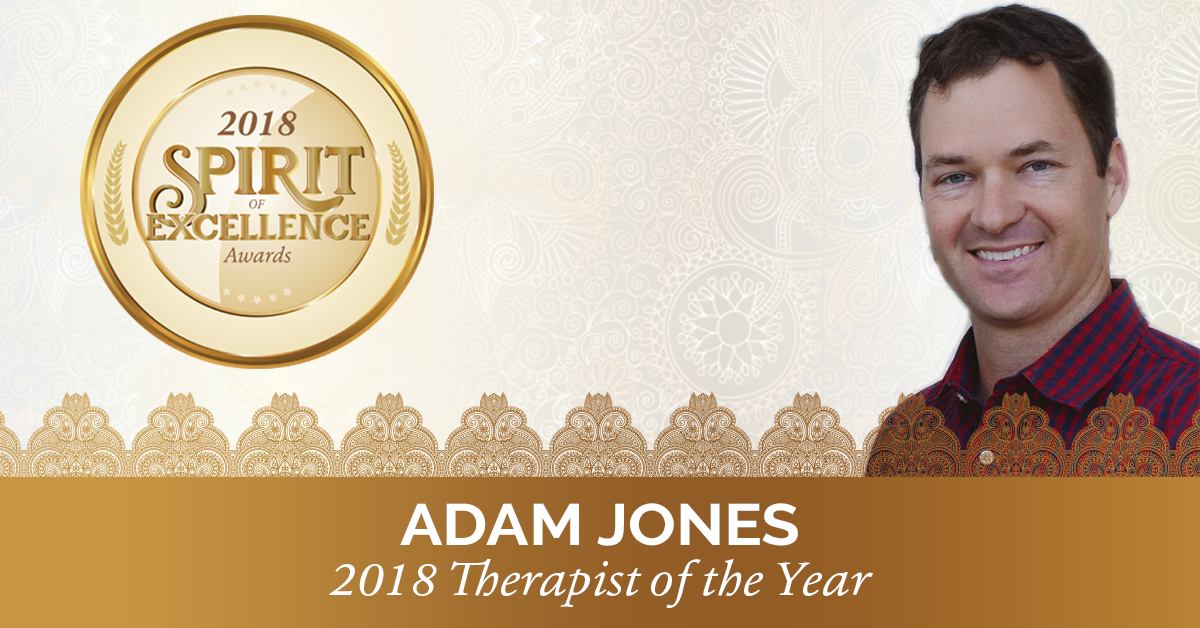 Adam is a strong face and voice for Amedisys simply by his example of clinical excellence. Adam is a true teacher and wants the patient to understand their entire health, so they will be empowered and see how it all works to improve their overall health. This has shown to improve outcomes and decrease hospital readmissions.
We attribute our agency's excellent outcomes to Adam's standards of care and leading other therapists. The teaching he is providing in the homes and facilities contributes to our low hospitalization rate, which averages 12% or less, and we have a 5 Star rating.
Adam understands communication and currently is working with many ALFs to bring in therapy, but also educates the facility staff and directors on many added factors that help improve resident quality of life, even beyond therapy. He understands quality of life can play a huge role in a patient's success with therapy. He brings nothing but excellence to those he serves and motivates his coworkers daily.
Rebecca Lee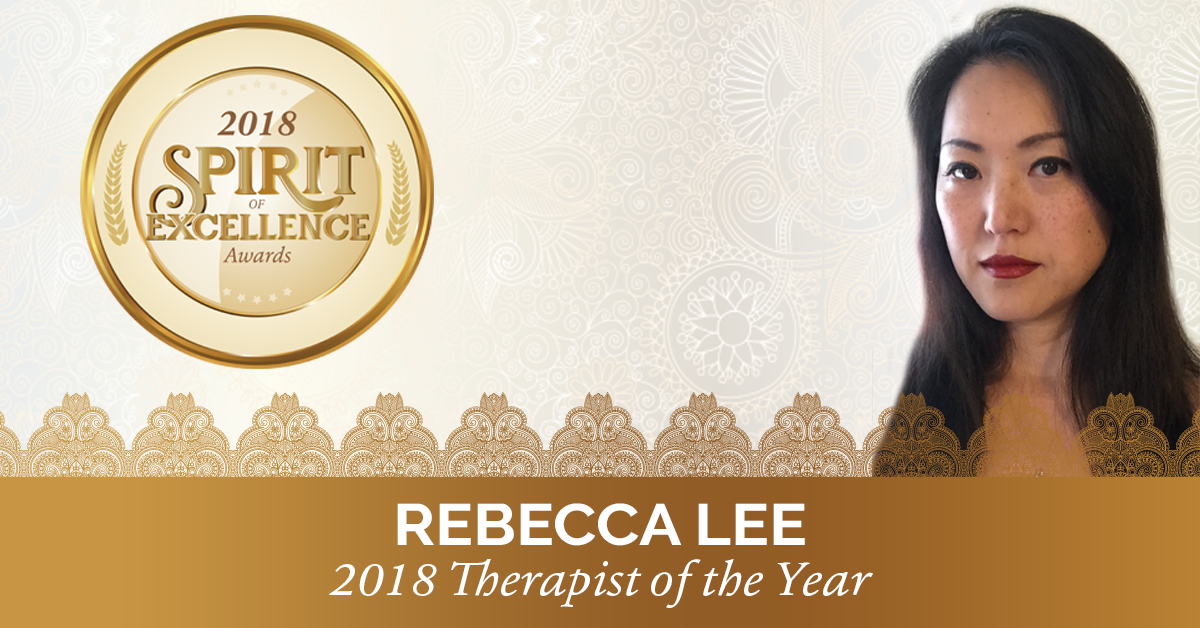 Rebecca receives on average 2-3 letters of thanks a month from her patients, saying they have never been treated with such respect and professionalism from the moment she walked in the door. She is often mentioned by name in the SHP
surveys.
Rebecca is a go-to person—no matter how stretched, she will work with the team and address the needs of the agency, whatever it takes to get any job done. She has covered for other PTs going miles into very rural territories, and did so without hesitation.
Rebecca is simply a shining star every single day and is an exemplary role model for others. She shows appreciation for her job, always has a positive attitude no matter how difficult things are and an appreciation that Amedisys gives her the opportunity to work.
James Preston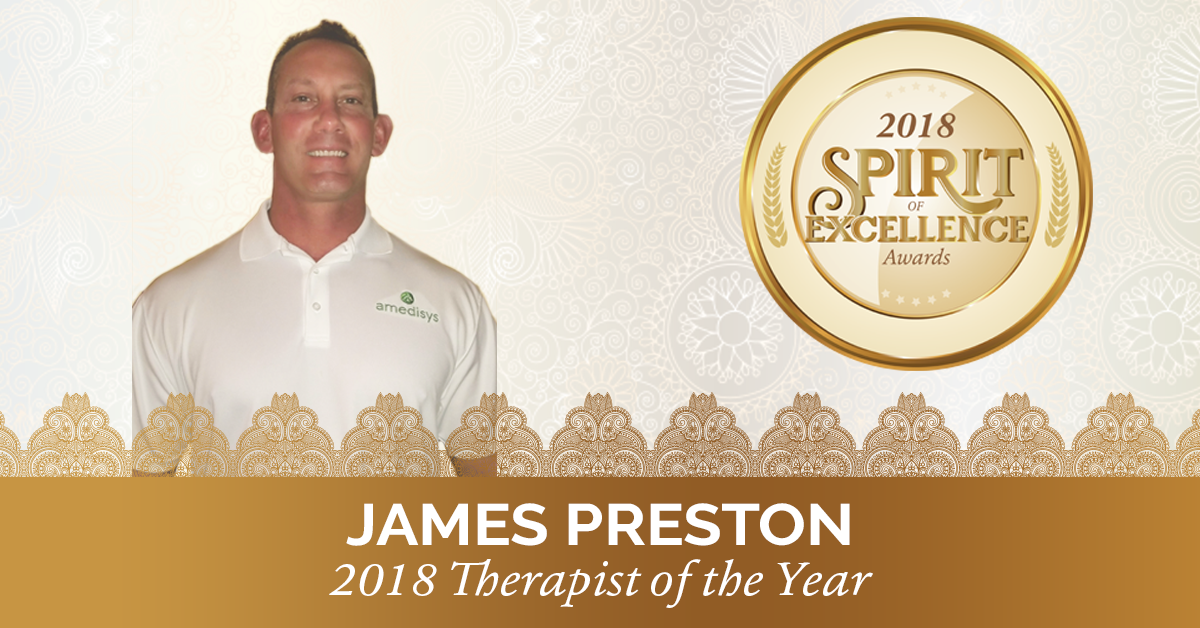 James is unique—he is the perfect caregiver to work in our assisted living facilities because he truly cares for our dementia patients. He has brushed an elderly woman patient's hair before, bringing her out of her room to ambulate with her. He is patient and spends a lot of time with each of his patients. One of his patients hadn't walked in months and he worked with her for 2 months, so that she'd be able to ambulate. Another time he noticed one ALF's dining area didn't have a server, so he served drinks to all the residents while they were waiting for dinner, and didn't say a word to anyone about it.
James gives outstanding reports to the supervising therapist, and his documentation is excellent. He truly cares what happens to his patients and has even visited them in the hospital. He makes a difference in patients' lives and truly represents Amedisys and what we do.
John Eaton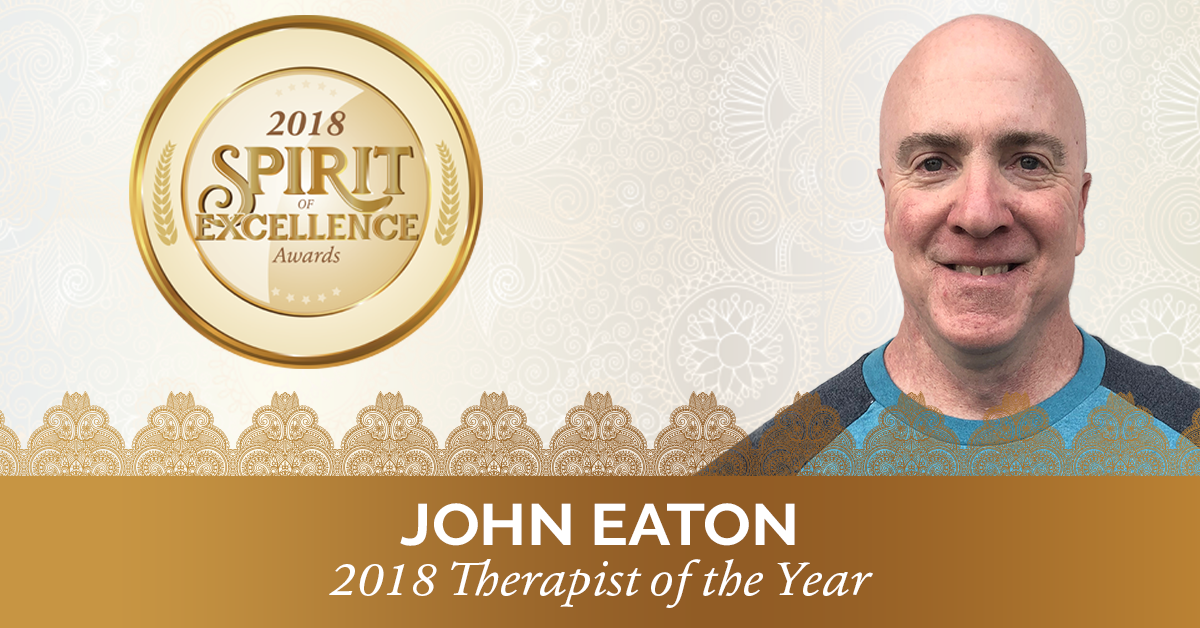 John Eaton truly exemplifies the Amedisys SPIRIT, not only with his patients but to anyone he comes in contact with. He goes above and beyond for his patients, and takes extra time to be sure their needs are met. He shows dignity and respect to fellow coworkers, patients and their families. Due to his kindness and genuine willingness to help others, new staff members go to John for questions related to
the tablet and documentation.
John earned his certification as a certified dementia practitioner on his own, because he wanted to better care for his dementia patients and assist families to do so. He is truly focused on patient outcomes and consistently wants to be informed of where we are as an agency with Star Ratings and meeting the outcomes that are in his realm of care. He is a true gentleman in all aspects and it is truly a blessing to have John as part of the Amedisys family.
AIDE OF THE YEAR
Aide of the Year is awarded to six Amedisys home health, hospice or personal care aides who have demonstrated clinical excellence at a level above and beyond the typical aide. The winners positively influence patients and families, promote patient independence, have knowledge of patient care and competency in personal care skills, are flexible toward assignments and function as an outstanding member of the care team to help achieve the best possible outcome and patient satisfaction.
Amy Creese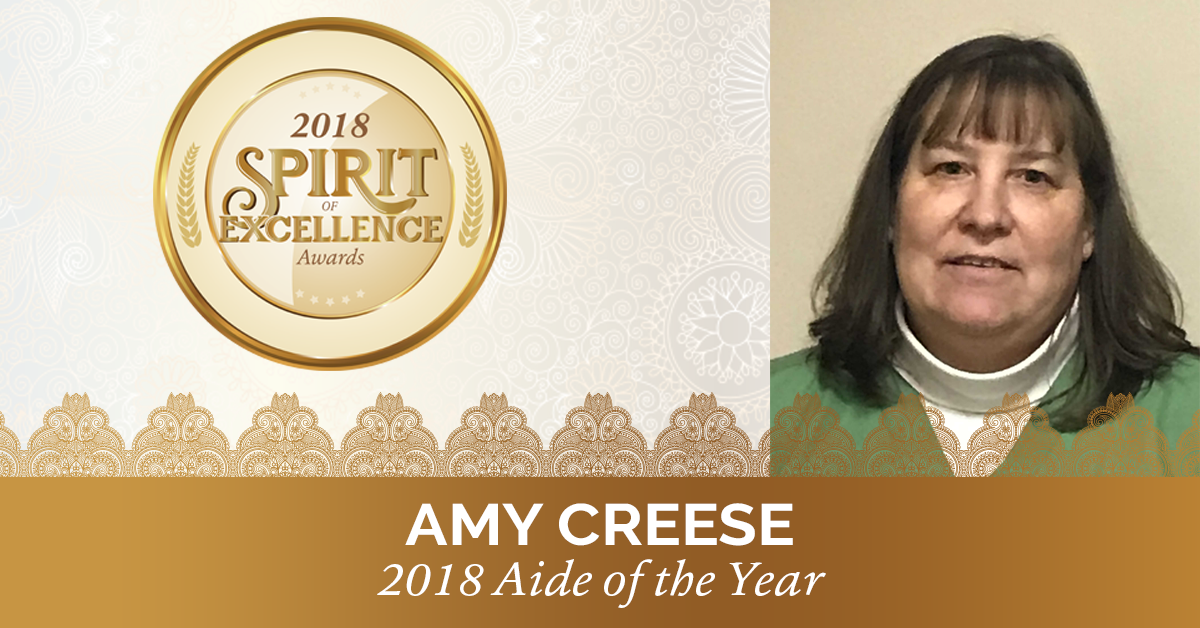 Amy is an amazing hospice aide and her passion for hospice is demonstrated daily by the tender care and attention she gives to her patients. She forms a bond with all of her patients and treats each patient like they are her own family. She is a patient advocate and has a true hospice heart. Multiple times she has seen patients on weekends and during off hours to provide care they need—she is available for her patients any time.
Amy always lets the care center know if one of her patients is actively dying, because she wants to be there to do the postmortem care and console the family. She always has dignity in mind and is empathetic to both the patient and their family through the end-of-life process. Her experience in the end-of-life process is invaluable to the nursing staff when reporting even the most subtle changes in condition. Often, this results in early intervention and increased comfort for the patient, as well as peace of mind for the family and that is truly What Matters.
Brenda Fontenot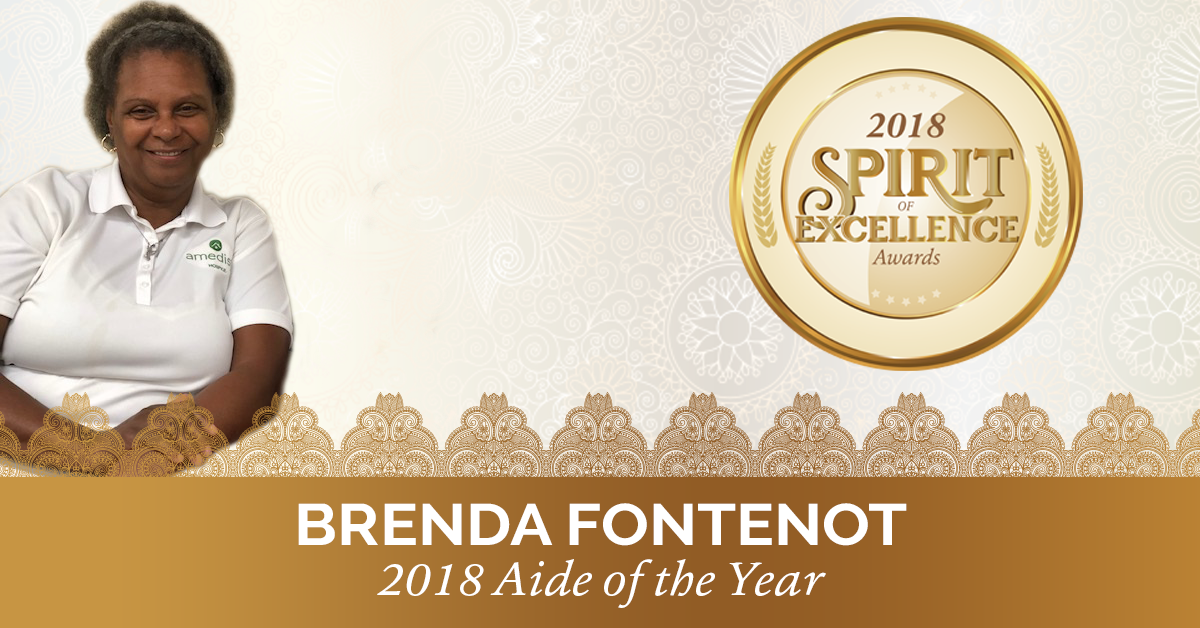 Brenda always goes above and beyond with all her patients, and it is clear that her work is truly a calling. She is extremely gentle and pays attention to what they say (and don't say). She often describes having a special attachment to the patients who can't verbalize their needs. She goes beyond the black and white description of her nurse aide job to address their holistic needs and shows love in everything she does.
Brenda is extremely knowledgeable, is committed to her profession, and performs the tasks of providing CNA services in a superior fashion. She obtained her Certification as a Hospice/Palliative CNA and takes advantage of any learning opportunities possible and documents her care.
She treats each patient as a special individual. Her sense of duty is something that is rare and a true gift
to the patients and our team.
Eva Crosby
Eva is reliable, consistent, caring and skilled. Her clients repeatedly call to express how wonderful she is and how happy they are to have her care for them. She has a sincere kindness and provides confident, skilled care.
Eva covered an overnight shift at an elderly housing site during a storm, where she anticipated that she may not have been able to leave the building due to the storm. Before arriving for her shift, she packed extra clothing, personal items, food for herself and extra non-perishables for the residents in case it was needed. She couldn't leave for 2.5 days during the storm, and during that time she created extra activities for the residents in addition to providing care.
Eva reports any concerns or changes in the clients she services immediately and appropriately. She has a calm, reassuring manner that puts all her clients in an immediate state of comfort. Her skills are impeccable, and she always considers safety and what's best for the client. Eva is a retired RN, who has taken to HHA work as a second career—she is an asset to this agency and the clients she serves.
Mike Hawley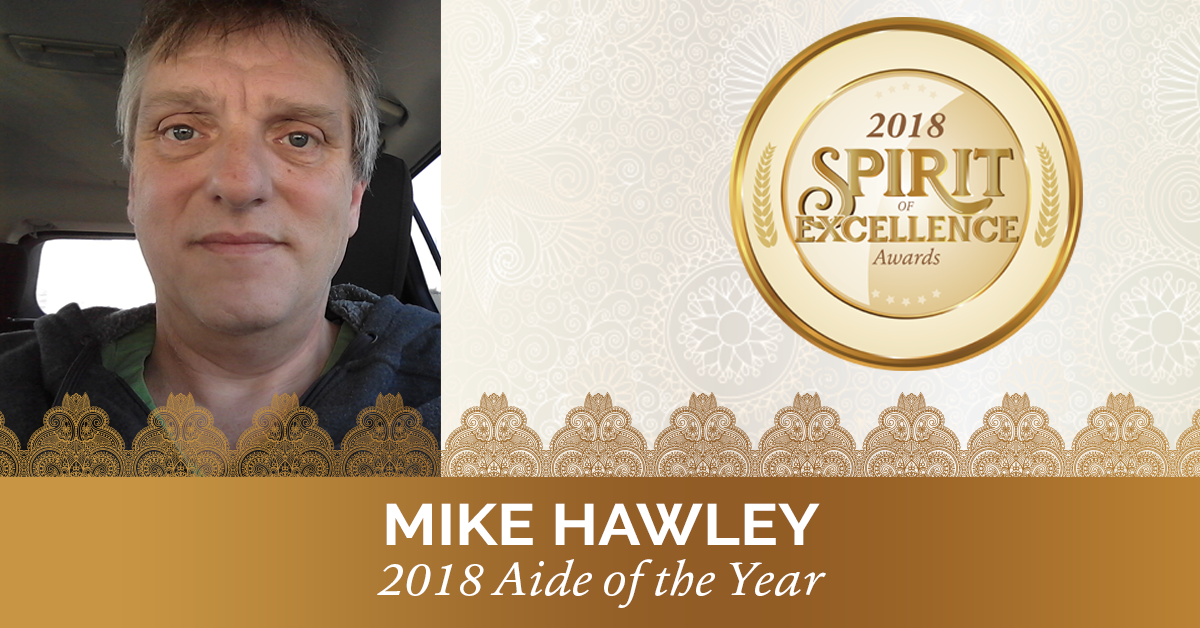 Mike goes above and beyond when it comes to caring for patients. He is compassionate, dedicated, respectful and committed to his patients and the Amedisys mission. He makes the effort to listen and understand what their needs and goals are, so he can help them along their journey. He maintains a positive attitude and outlook and can support and comfort those he cares for.
One family member shared that Mike went above and beyond to care for his mother and made her feel at ease at the end of her life. He provided support and comfort to her as well as her family during a time that they described as "intense and scary." He exhibits the "Power of YES!" Many patients' families have said Mike becomes part of their family during the time he provides care. He has a tender smile that instantly puts people at ease. He is easy to talk to and has a great sense of humor, and truly demonstrates true Amedisys SPIRIT.
Julie Jones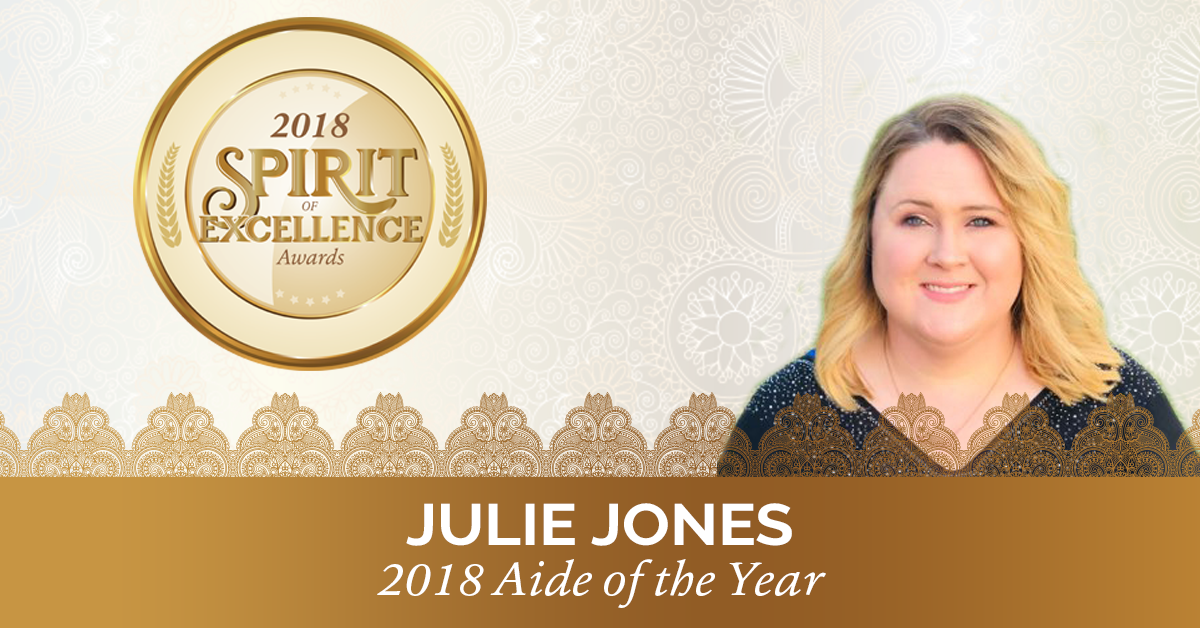 Julie's level of commitment is apparent in each patient interaction, and she goes above and beyond simply following the hospice CNA plan of care. She talks to her patients and their families and builds a high level of trust. She has held the hands of crying caregivers and sat with them to console them.
Julie demonstrates clinical excellence consistently in the way that she follows the hospice aide plan of care, her documentation and communication with case managers. In talking with the families, she is able to give more information that can help the IDT better tailor education and POC. She handles her duties diligently and knows when to reach out for additional resources.
Monica Benson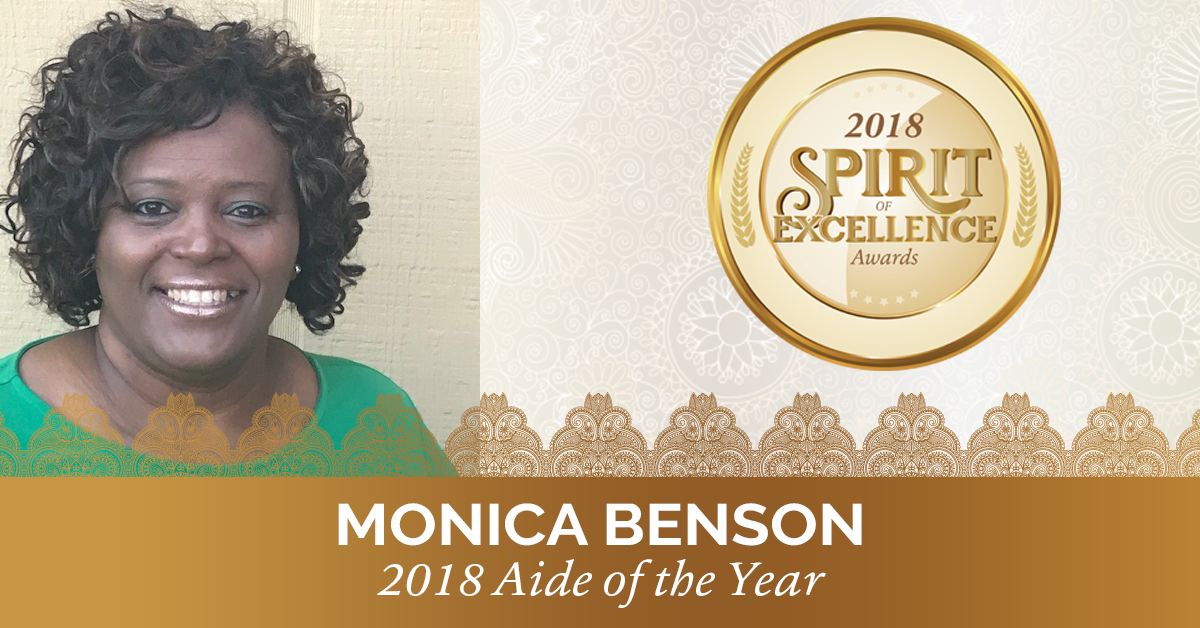 Monica has such a giving and kind heart. She treats each patient with respect and tenderness and makes everyone feel very comfortable—patients love "Ms. Monica!" She greets every patient with a smile and makes them feel like they are her top priority. I've never heard a negative word spoken about Monica either by a patient or coworker.
Monica communicates effectively with the patients as well as the staff. When needed, she has stepped in to take on other aides' patient load in addition to her own without complaint. She has an impressive work ethic and is very attentive to her patients' needs. She does extra things to make her patients feel loved and cherished with a smile on her face.
VOLUNTEER OF THE YEAR
Hospice Volunteer of the Year is presented to four Amedisys hospice volunteers who have served in Patient/Family Support or Organizational Support. Nominations should be based on the demonstrated commitment in terms of time, amount of responsibility assumed and the impact your nominee has made in strengthening the hospice program and/or on the lives of patients/families served. Additionally, the awardee should serve as an inspiration to others in the community and have developed or grown from his or her hospice volunteer experience.
Rennie Catellier
Rennie Catellier passed away October 23, 2018, before the Spirit of Excellence Awards were announced. He will be recognized posthumously, and this award will be given to his family in recognition of his dedication to Amedisys, our hospice patients and their families.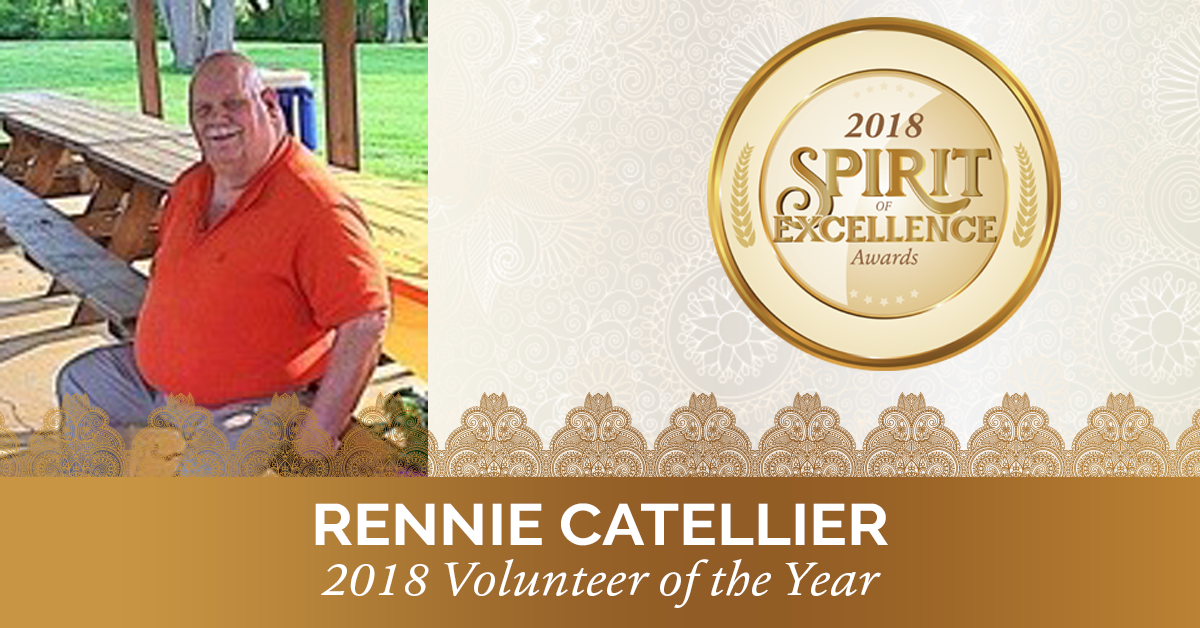 Rennie was a ray of sunshine everywhere he went, and there was hardly anywhere he wouldn't go. In a time of need, Rennie could be counted on to be there and lend a helping hand. He respected all patients and families and their wishes. Rennie consistently put in more time than any other volunteer every month and did so over the last four years. He was a loyal volunteer and stayed
true to Amedisys, despite being sought out by other hospice agencies.
Rennie truly had a servant's heart, full of joy. He loved telling stories from days long ago and many of them left you with a chuckling grin. He had a great sense of humor and light-hearted nature, but was also extremely caring and respectful.
Rennie was patient-centered, and went above and beyond while maintaining appropriate boundaries. He primarily provided direct patient companionship and caregiver relief to our home patients, but he also visited numerous nursing homes and assisted living patients each week. We are grateful to Rennie for the gifts and talents he shared with our patients.
Robin Hood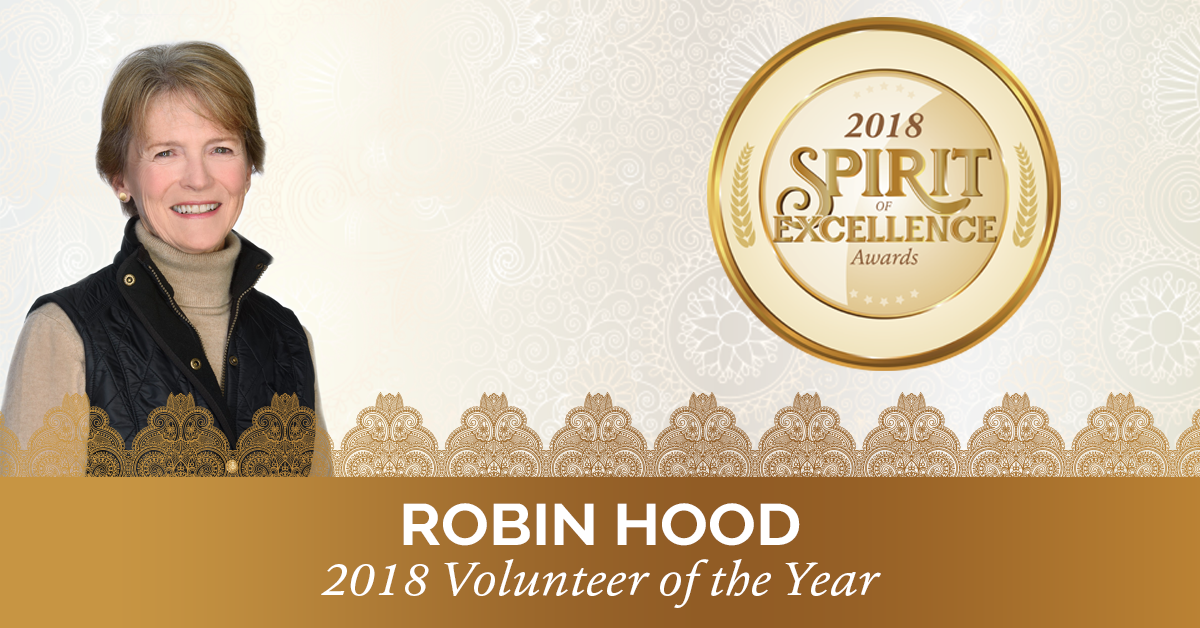 Robin has a strong desire to comfort those in need, especially the elderly. She enjoys the company of the elderly and they thoroughly enjoy hers. As she says, "We make each other happy." For more than five years, Robin has done everything in her power to let our patients know they are loved and not alone. She provides companionship for patients and supports their family members through respite care and vigil; she makes bereavement calls and visits; sits at the bedside for hours with the dying; serves as cupid delivering valentines throughout facilities; instigates and organizes birthday celebrations; mentors other volunteers and represents the mission of our hospice organization as a stellar hospice ambassador in our communities.
Robin has delivered 1,058 hours of care, just over 200 hours/year. She visits 4-5 patients in a week and offers vigil whenever the need arises. She always follows through, completing assignments and paperwork reliably, taking initiative to contact staff and families. She demonstrates excellence through every interaction.
Rebecca Leonard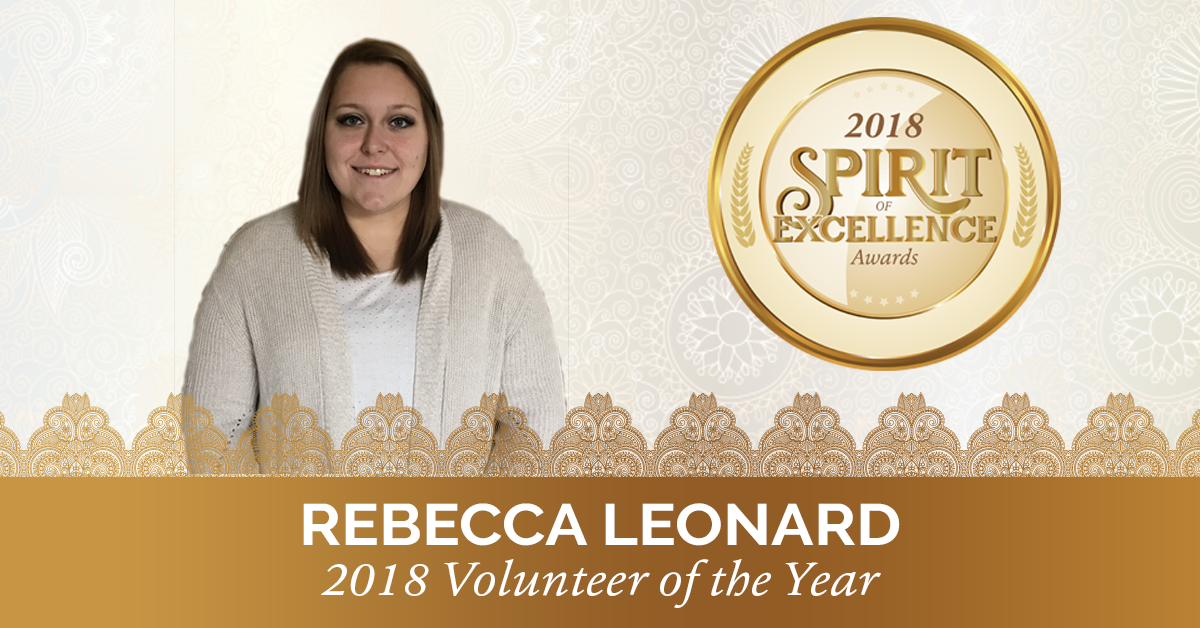 Throughout her seven years as a volunteer, Rebecca has been very dedicated to our hospice patients, and continues to be a volunteer during her college work. She also helps with all-day setup for our annual memorial service, attends viewings and helps as a bereavement volunteer in the office. She also helps the patients play bingo, provides an ice cream social, music in the facilities and even does crafts with patients.
Rebecca is warm and caring and her demeanor is attentive and focused on patient comfort. When she's with our patients, she focuses on each individual and provides one-on-one attention. When she makes a chart-a-life, she puts a lot of thought and love into that person's interests. She demonstrates level eye contact, conversation about the patient and makes sure the patient's needs are taken care of before she finishes her visit. Even when she was enduring hardships of illness and pain, she stayed committed to volunteering for our patients. She is very well loved by all staff in the office and field.
Heidi Piroso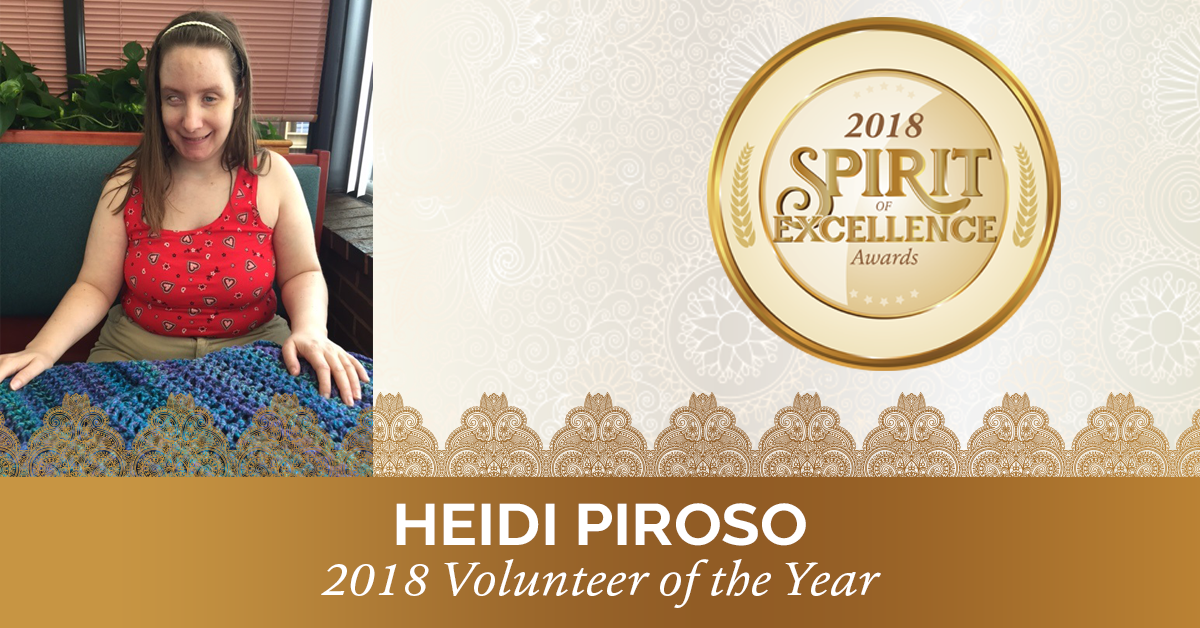 Heidi has created and donated hundreds of handmade, beautifully knitted blankets for our hospice patients over the past 11 years. Since 2014, she has surpassed 1,700 hours of blanket making, creating more than 250 blankets and lap blankets for our patients.
Heidi makes it easy for us to provide additional support to our patients by being able to provide special gifts to them. She has allowed us to make our veteran pinning ceremonies even more remarkable. Along with the recognition certificate and pinning, we now also present a red, white and blue blanket to our veteran patients.
She always has a smile on her face when talking about her craft, which shows her true love for volunteering and sharing her talent with our patients. Many patients and their families have commented on how the blankets have made the hospital bed look like home for them and their loved ones. You can see the love that Heidi puts in every blanket she creates. She is genuine in her desire to help another person to make a difference where she can.
HOME HEALTH CLINICAL MANAGER OF THE YEAR
Home Health Clinical Manager of the Year is awarded to two Home Health Clinical Managers who have exhibited a commitment to clinical excellence above and beyond that of a typical Clinical Manager. The winners should positively influence patients and families, be flexible and compassionate and function as outstanding members of the care team to help achieve the best possible outcome and patient satisfaction.
Jessica Langele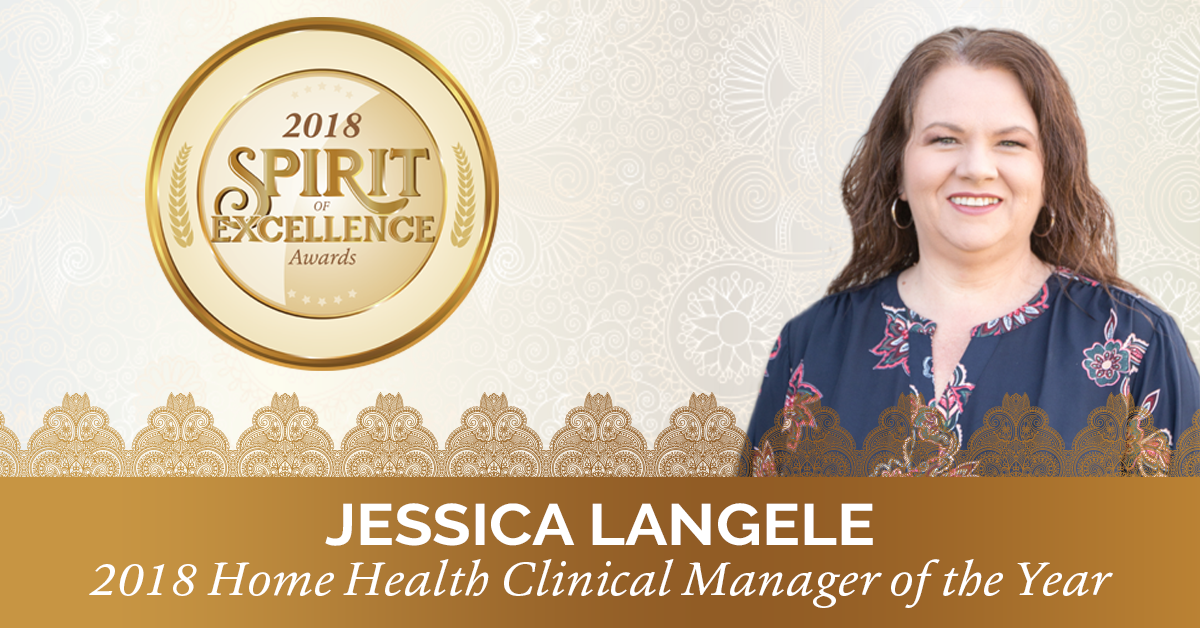 Jessica started with Amedisys in February 2017. By June 2017, she had moved up to the clinical manager position without having had any prior managerial experience. Before Christmas that same year, she assumed the responsibilities of the DOO in addition to clinical manager, when the care center needed her, and she was the missing link.
Jessica has been the chain reaction that transformed this care center and united them as a team. She leads by example and never asks anyone to do something that she would not do herself. She has brought back trust, compassion and unity to our office and earned the respect of everyone. She is not recognized as the interim DOO, and she performs those responsibilities without complaint. She is the epitome of effective leadership and embodies everything that is Amedisys.
Jessica is self-motivated and always willing to listen with a smile and a positive attitude. She has inspired the clinicians to strive for excellence and motivated them to provide the best possible care to our patients, saying, "we are only as good as the quality of care we provide." She has been an untiring advocate, and brought change to our office with grace, integrity and humility.
Brittnee Hiott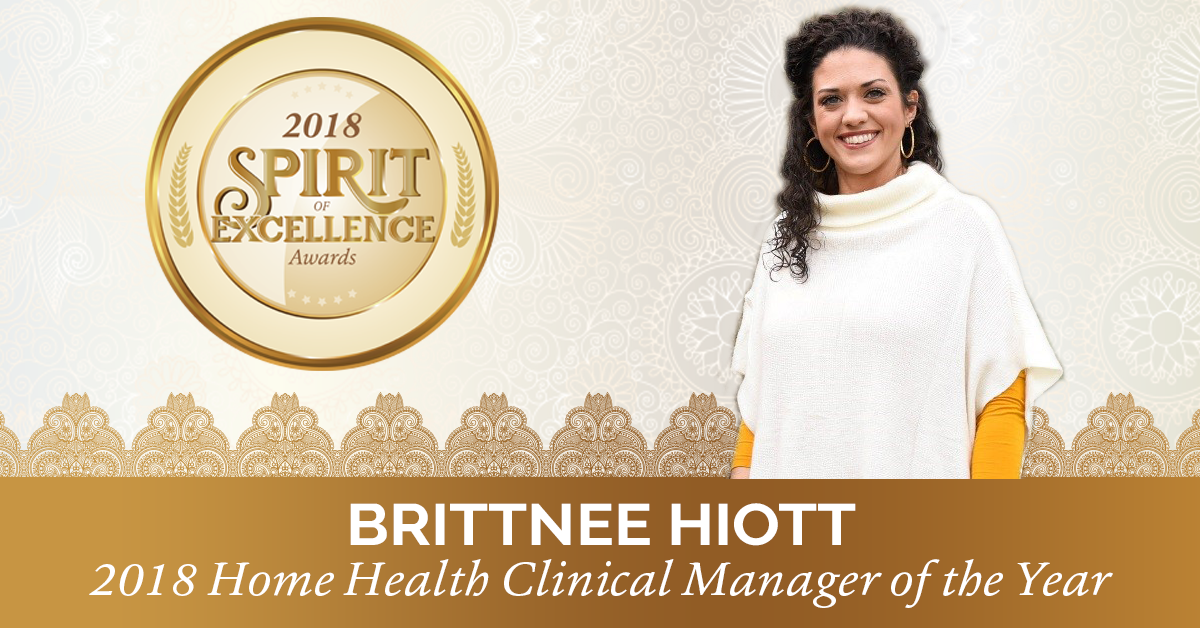 During her two years with Amedisys, Brittnee has united the care center staff and her positive attitude has never wavered. She demonstrates team work and often wears many more hats that just clinical manager. She goes out to see patients whenever needed, helps clinicians with a wound vac or finding a vein and never complains. She is always upbeat and bubbly with everyone.
Brittnee always takes time to explain the "why" behind what we do and she is truly a leader. She has been instrumental in growing her care center census from 150 to 208 in less than a year. Her steadfastness and genuine concern for each patient and team member has created a family atmosphere in the care center. She is truly dedicated to building and supporting her team. For Nurses Week, she showed up with a sponge and water-hose and cleaned the nurses' cars and had a picnic. There are countless examples of her constant caring and compassionate nature.
HOSPICE CLINICAL MANAGER OF THE YEAR
Hospice Clinical Manager of the year is awarded to two Hospice Clinical Managers who have exhibited a commitment to clinical excellence above and beyond that of a typical Clinical Manager. The winners should positively influence patients and families, be flexible and compassionate and function as outstanding members of the care team to help achieve the best possible outcome and patient satisfaction.
Amanda Ferdon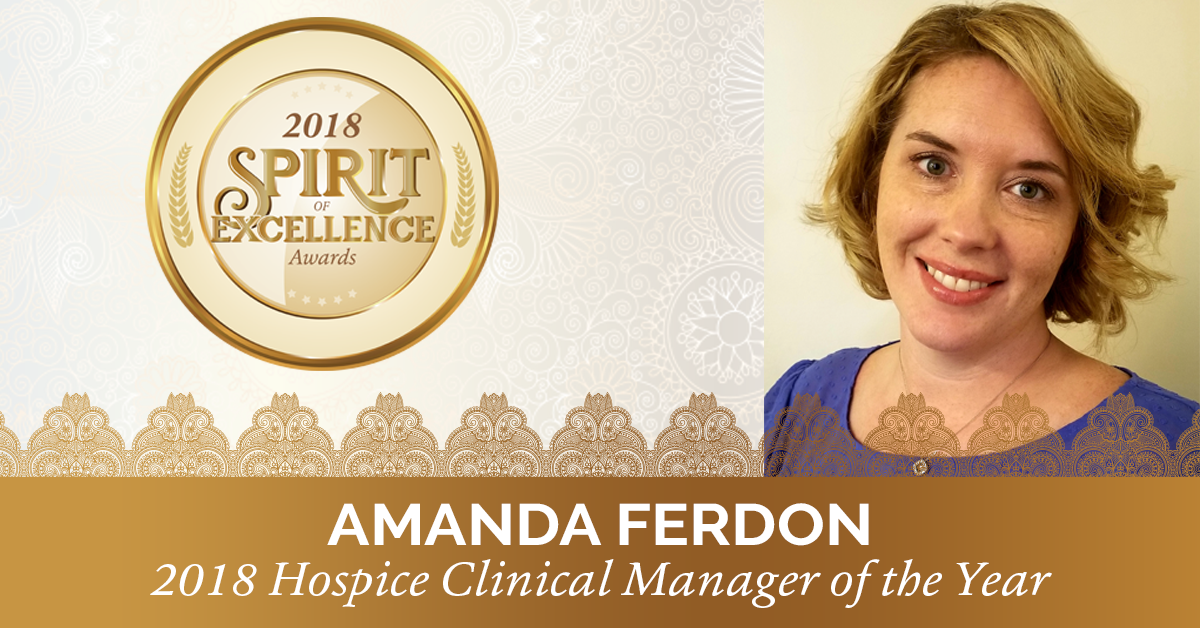 Amanda always goes above and beyond to help patients and staff, and she helps in any crisis. She always talks to the patients and their families as if they were her own family and makes sure they understand what is going on. She loves her job, coworkers, and our patients, which is evident through her actions.
One time a family came here to interview us to see if they wanted their loved one on our service. Amanda answered all questions in a way that they understood. Even other staff members expressed admiration over her conversations with them. She always does the right thing for the patient, their families and our company. She finds a great balance between service, cost and the Amedisys way. She has a gift of communicating compassion and a talent for delivering the hospice philosophy and goals of bringing quality to patients at the end of life.
As a mentor, she doesn't rush you in any way—she talks to you on a level you can understand and makes you feel like family, and not just a number. She is a knowledgeable, caring and experienced clinician who evaluates the whole patient. She communicates all needs to the physician and team and leads the clinical staff to ensure that the patient's needs are met.
Shelley Emerson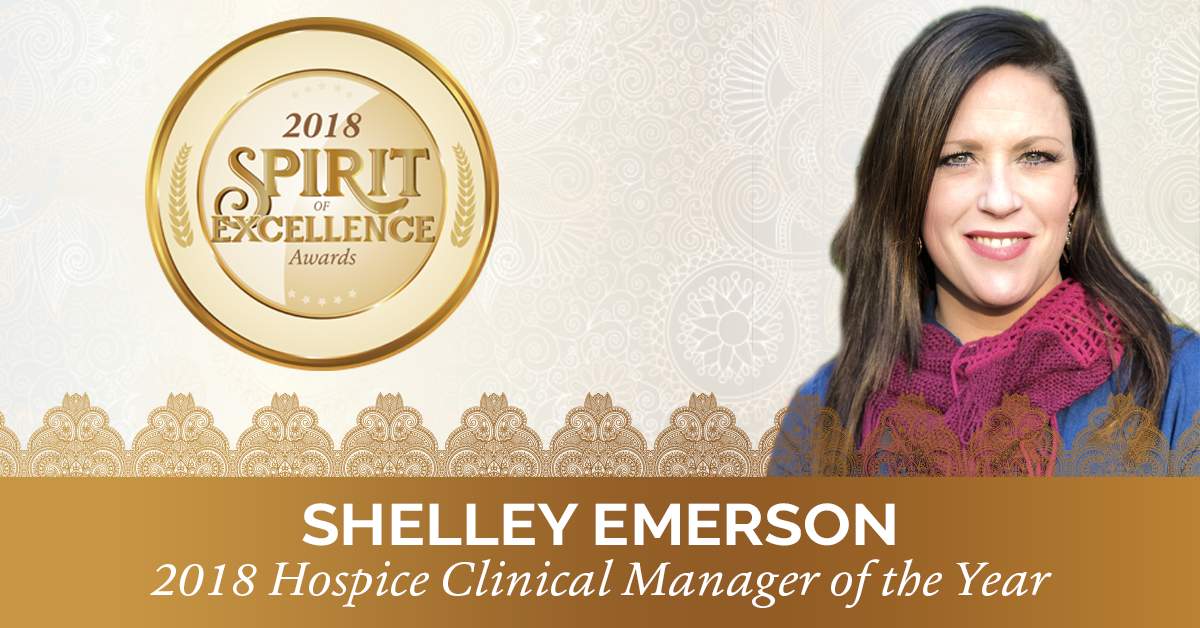 Shelley is deeply caring, respectful and considerate and always brings a positive attitude to the care center. She gives us the resources we need so we can provide spiritual support to our patients and their families. Her caring and joyful attitude brings a breath of fresh air to the care center. She is an encourager and has stepped up to be a great leader. Her heart is so big and it shows to our patients when they call and also to the staff when they need some extra encouragement. She loves helping people and her goal is to help each patient have a calm and peaceful death.
Shelley started as a PRN RN and has worked her way up to clinical manager through hard work and dedication, moving to a full-time role in the middle of the HCHB transition. She coordinates referrals, learns more about patient needs, takes care of the on-call schedule and much more. She is truly an asset to the Tuscaloosa office.
PATIENT SUPPORT SERVICES PROFESSIONAL OF THE YEAR
Patient Support Services Professional of the Year is awarded to two care center professionals who assist/support those who care for patients, but are not clinicians/nurses, therapists or aides. This includes BOMs, Volunteer Coordinators, Bereavement Coordinators, dietitians or care center staff. The winners should positively support our clinical team, be flexible and compassionate and function as an outstanding member of the care team to help achieve the best possible outcomeand patient satisfaction.
Nicole Finitsis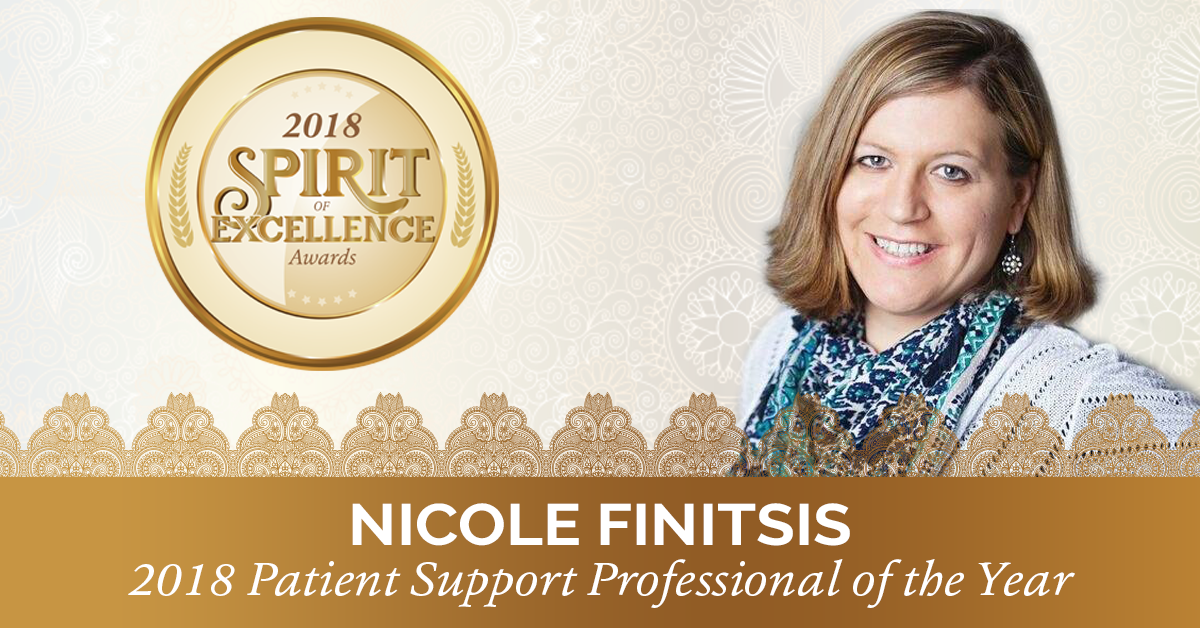 In her two years with Amedisys, Nicole has trained 81 volunteers, orchestrated more than 100 pinning ceremonies for veterans, served as captain of the Beacon Hospice Alzheimer's Walk Team and much more.
She is dedicated to volunteer training and streamlining the data entry and note coordination process to increase VC performance and create more time for them in the field. She has grown her volunteer team from 28 volunteers to almost 70 active volunteers in two years' time. She has also enlisted volunteers with a variety of talents, such as musicians who perform at the bedside, people who knit beautiful prayer shawls and blankets, pet therapists and more. She ensures her volunteers receive coaching on a variety of topics, such as how to have positive 1-to-1 interactions with patients with advanced dementia, recognizing the special needs of our Vietnam veterans, and Vigil
Retreat training, which is a training Nicole initiated at Amedisys.
Hospice patients benefit tremendously from her creativity and hard work. She constantly seeks new ways to honor patients and engage the community. Nicole's volunteer efforts add to the quality of time these patients and families have together.
Deborah Proulx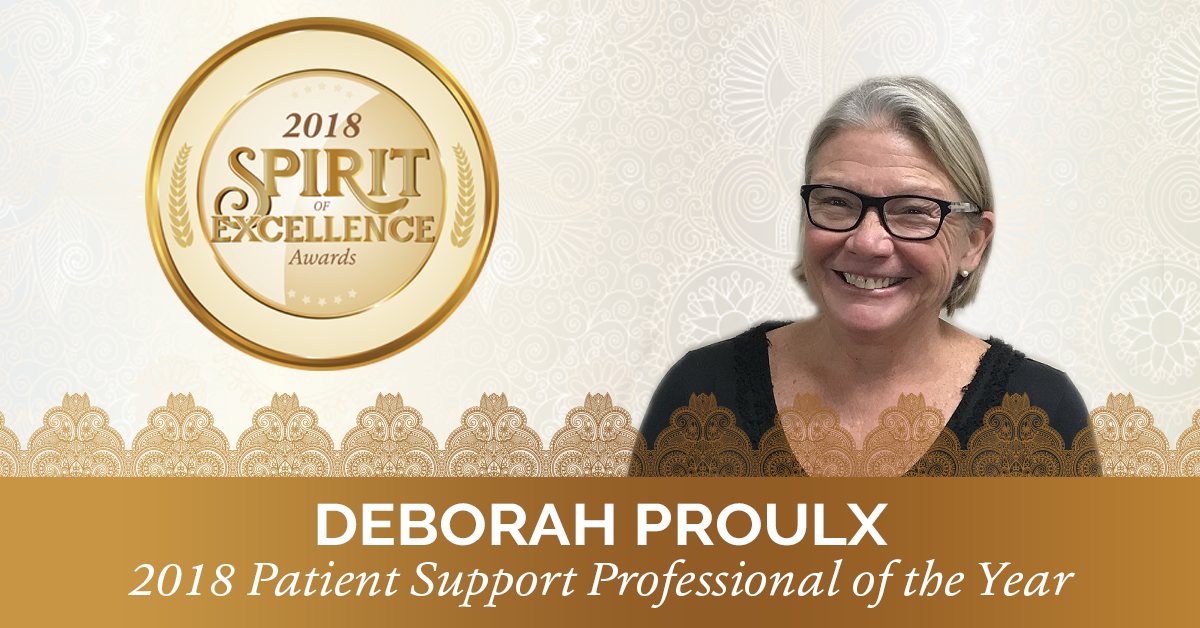 Deborah has an unwavering devotion to hospice that spans 13 years with Beacon Hospice, an Amedisys company. She provides individual attention and care to every single person she interacts within her hospice family. Whether it is the families she supports in bereavement phone calls and visits, grieving spouses and adult children of patients who attend her support groups, or her own team members, Deborah is respected by all who know her. Her facility support groups often want her to come back well before her next scheduled group, which speaks to the impact she has in the community.
Deborah takes clinical excellence to a new level. She has the hospice spirit and compassion for grieving families and knows how to acknowledge someone in their journey, wherever they are. She presents at volunteer trainings regularly and teaches new volunteers about their own outlook on death and their own losses, taking time to listen to every story and offer words of reflection. She has a gift for listening and reacting to each interaction in the right way for that individual person.
CORPORATE SUPPORT PROFESSIONAL OF THE YEAR
Corporate Support Professional of the Year is awarded to an Amedisys corporate employee. The winner demonstrates exceptional support to the field and exhibits the Amedisys core beliefs in their interactions with every employee during the past year (2018).
Michael Phillips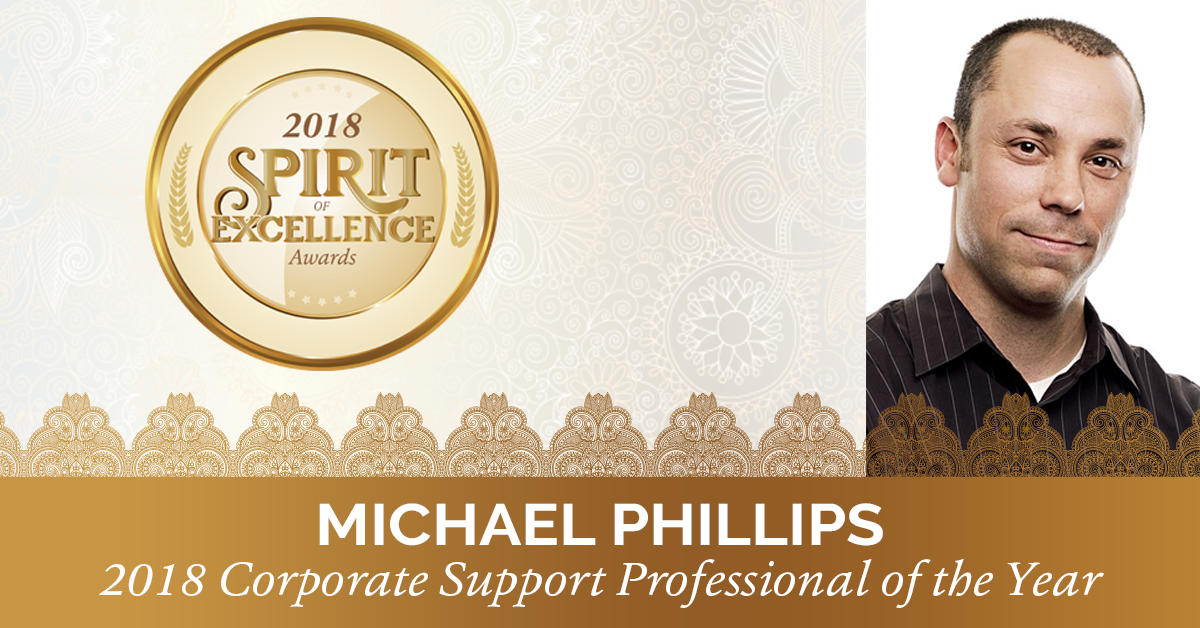 Michael consistently looks to see how the user experience for our employees can be improved in simple ways, such as a kind word along with an update to a request or changing out processes or technology to improve the day-to-day for our care givers and office staff. He is constantly looking to see if we can find the root of the problem and fix the issue permanently, rather than just passing the problem along or getting by with a workaround.
Michael has gone above and beyond to help other departments resolve issues and collaborate to revamp entire processes. He is a great leader and demonstrates the Amedisys core values daily. He doesn't hesitate to share his time and is open to sharing his expertise. Michael has made so many positive changes for the organization and deserves recognition for his tireless work.