In my last two blogs, I have shared that Amedisys believes that quality should be the price of entry for home health care, outcomes matter, value is a differentiator, and that home health companies should be pursuing innovative solutions that seek to better leverage the home in the healthcare delivery system.
To that end, I am pleased to share that Amedisys and myNEXUS®, a leading post-acute technology and home-based services company based in Nashville, TN, have joined forces in a collaborative partnership to jointly serve a limited number of payor's population health needs in select states.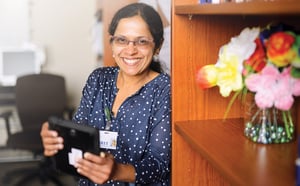 Together with myNEXUS, we are pursuing new and innovative ways to pair a leading home healthcare provider with coordinated benefit management and strong analytic solutions to further focus on quality, utilization and outcomes while exploring new ways to share some of the risk associated with achieving lower total cost of care for select Medicare Advantage plans and their members.
Demonstrating an improved value proposition isn't easy, particularly in an industry that is highly fragmented and at a time when the discussion around healthcare is generally in flux, but we should be willing and wanting to do it. We shared that we are looking for collaborations that drive value for patients, caregivers and the financial institutions that fund our health care programs—and we're on the move.
Best-in-class clinical programs, outstanding patient outcomes and a solid value proposition are the cornerstone of our shared home health care solutions. Quality and affordability are top of mind, and this new relationship between Amedisys and myNEXUS aims to increase the predictability of care, demonstrate a lower total cost of care, and better align payor, provider and patient goals.
We look forward to embarking on this journey with myNEXUS.